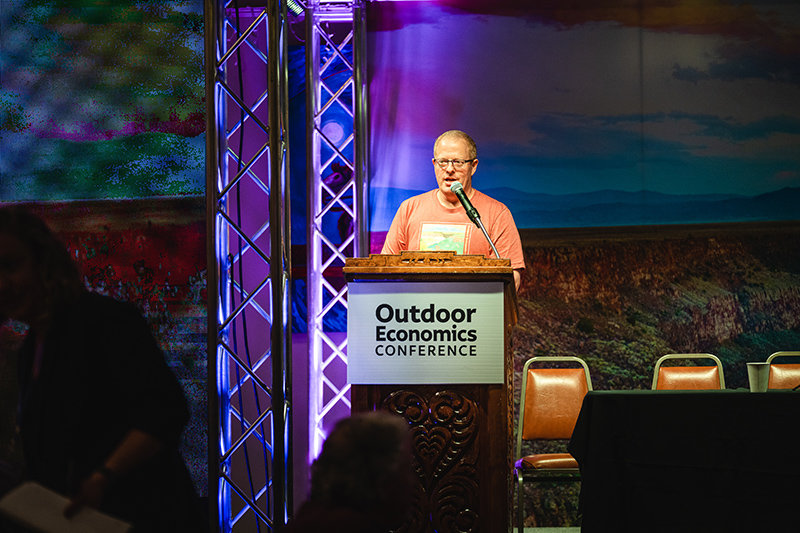 By Mike Koch
"This year's conference was the largest yet, with over 350 participants from every corner of the state, including Las Cruces and Doña Ana County," said Senator Jeff Steinborn of the Oct. 5-7 Outdoor Economics Conference in Taos.
"We learned a lot about important issues related to our natural world, including conservation, trails and sustainable infrastructure, tourism, equal access, education, and small business opportunities and challenges," said Steinborn, founder and director of the conference and executive director of Outdoor New Mexico , which co-sponsored the conference with the Outdoor Recreation Division of the New Mexico Economic Development Department.
Conference participants and panellists included US Senator Martin Heinrich and US Representative Melanie Stansbury, both D-New Mexico; Lt. Governor Howie Morales; Stephanie Garcia Richard, Commissioner of Public Lands in New Mexico; New Mexico Department of Tourism Sec. Jen Schroer; Director of New Mexico Outdoor Recreation Division Axie Navas; Toby Velasquez, director of the New Mexico State Parks Division; Taos Pueblo Governor Clyde Romero Sr.; Fernando Macias, District Manager of Doña Ana; Sonya Delgado, City of Las Cruces Parks and Recreation Director; Jessica Gomez of Friends of the Organ Mountains-Desert Peaks; Wildlife for All CEO Kevin Bixby; and NMSU film professor Ilana Lapid.
Workshops included "Outdoor Infrastructure as Economic and Community Development", "Micro Outdoor Economic Development Strategies", "State of the Outdoors with New Mexico's Leaders", "Managing Challenges of the Outdoor Economy", "Outdoor Access, Inlusivity and the Outdoor Equity Fund", "Destination Marketing", "Success Lessons from New Mexico Outdoor Businesses", "Conservation of Nature", "Outdoor Education in Schools" and "Building a Successful Outdoor Business".
The conference also included outdoor tours and screenings by the Gila Environmental Film School presented by NMSU film professor Ilana Lapid and the showcase by New Mexico native filmmaker John Pinto.
Visit www.outdooreconomics.com.