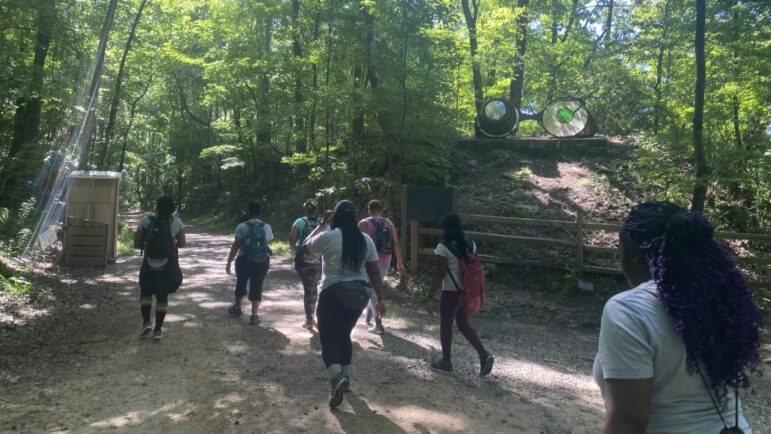 This story is part of a monthly series called Outdoor Connections, which features stories that explore Alabama's biodiversity and our dependence on it.
Once a month a group of women gather at Red Mountain Park in the Birmingham area for a hike. Before beginning their two-mile hike, they stretch together while standing in a circle. The group leaders ask if any of the women have allergies or need inhalers, and everyone exchanges cans of bug spray. Then they set off.
Black women have always enjoyed participating in outdoor activities. But that's not the typical picture of people hiking, canoeing, or camping. A group called Outdoorsy Black Women is changing that narrative.
Outdoorsy Black Women members get together for a hike.
Lakeitha Clark fell in love with Outdoorsy Black Women as she approached her 50th birthday. She wanted to take a trip with lots of outdoor time and needed inspiration. She found the group on Instagram.
"I love having black women to hang out with because I'm usually alone in places like this. None of my friends or family are in this one. They think I'm the crazy one. But I found my people. I have other friends, but having other black women who share a love of the outdoors is special," Clark said.
Outdoorsy Black Women is a national organization with more than 3,000 members across the country. Clark helped found the Birmingham Chapter in early 2022, which already has 160 members.
Toyin Ajayi founded the national organization in the midst of the pandemic. She has been working remotely for an online magazine since 2011, but has always dreamed of swapping stationary life for life in an RV. She made this jump in 2020 wanting to find other black women who lived in their RVs and enjoyed outdoor activities. Additionally, as racial tensions rose following the murder of George Floyd, Ajayi wanted to create a safe space for black women.
"One thing I realize is that nature can be experienced in different ways by different people and it will be different things that people connect to," Ajayi said.
She says Outdoorsy Black Women grew to a thousand members within three months of its inception in 2020.
Ajayi recognizes that these activities may be new to some people and doesn't want anyone to feel left out. For example, she said if a person feels they can only hike a half mile, then they will walk them back to the beginning of the route while the rest of the group completes the hike.
"We are coming out of a pandemic. I don't think either of us is at our best," Ajayi said.
Valerie Jones has always loved being in nature. Growing up on a farm in rural Alabama, she was used to walking long distances and being in the sun all day. She usually did some type of physical activity to maintain her weight and stay healthy, so she joined Outdoorsy Black Women and has since shed a few extra pounds. But she also likes to have a community of people to lean on.
"Being around people is just good for mental health. Having a village, not going through life alone. People don't realize that just 10 to 15 minutes of exercise a day will help you lose weight and feel better," Jones said.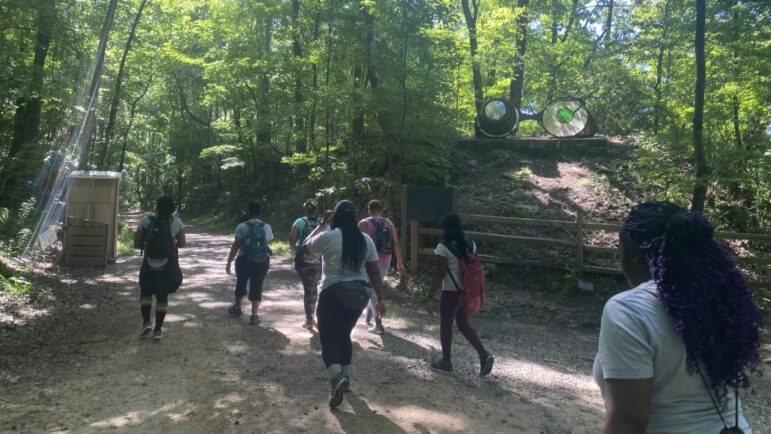 The women of the Birmingham chapter of Outdoorsy Black Women hike in Red Mountain Park
Samantha White, a professor of exercise science at Manhattanville College, said this is nothing new for black women. She says that WEB Dubois and his daughter Yolanda went to summer camp in New York in the early 20th century.
"There are stories in magazines like Ebony. You'll find narrative in articles about black women skiing and hiking in the 1970s and 1980s," White said.
Despite that history, White said, outdoor activities have always been viewed as something only white people do. If you look at some outdoor recreation brands' marketing materials, you don't see many black faces.
"Some of these companies have had trouble imagining their larger audience, imagining who is using the trails, or who is hiking, or who is kayaking or canoeing. It's a very narrow idea of ​​what kind of communities are participating," White said.
Outdoorsy Black Women pushes against it. Retailer REI recently partnered with the group, which focuses on creating more diverse communities for outdoor recreation and adventure. This fall, the company launched a new line of hiking gear designed to better accommodate the different body shapes of black people.
As the weather cools, the Outdoorsy Black Women's Birmingham chapter will continue its wanderings through the winter – with every step representing community and sisterhood.
Do you have an idea worth sharing with us? external connections Series? E-mail [email protected].