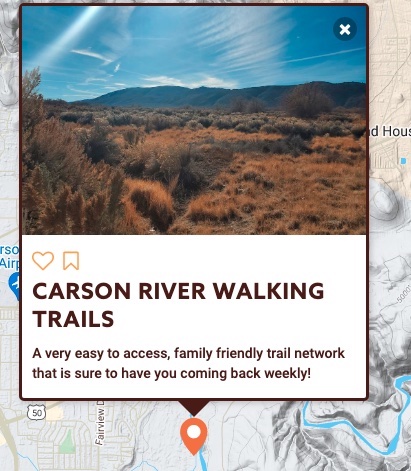 Outdoor enthusiasts can now access the Nevada Trail Finder, a centralized "one-stop shop" for exploring and discovering Nevada's trail systems.
Developed by multiple state, federal and non-profit outdoor recreation partners in Nevada, the web-based mapping resource allows users to connect to up-to-date information and access interactive maps and tools to track outdoor adventures.
"Mapping has always been a challenge for Nevada's vast public lands, and this tool is a huge step in the right direction," said Miles Gurtler, director of the Bureau of Land Management's recreation program, in a press release.
The platform offers detailed driving directions pages, downloadable maps, information and planning aids, tips for responsible and sustainable recreation, and the opportunity to submit travel photos and comments.
"Through this tool, the public will have a one-stop shop for information about trail systems throughout Nevada, along with responsible recreation resources to ensure the sustainability of our trails," said Bill Dunkelberger, forest warden for the US Forest Service.
In addition, the public can use the trail finder to track personal trail experiences, noting previously explored trails, personal favorites, or ones they plan to visit.
"Together with our multi-agency partners, we are excited to launch the Nevada Trail Finder – a unique resource in Nevada – to encourage people of all ages, abilities and backgrounds to get outside, connect with nature and explore Explore Nevada's vast outdoor treasures sustainably and responsibly," said Dominique Etchegoyhen, associate director of the Nevada Department of Conservation and Natural Resources.
Nevada Trail Finder currently offers more than 150 trail systems in all regions of the state, with new trails being added all the time.
The site was developed by: Nevada Department of Conservation and Natural Resources (Nevada Division of Outdoor Recreation, Nevada Division of State Parks, Nevada Off-Highway Vehicles Program); The Great Basin Institute; Travel to Nevada; Bureau of Land Management; and U.S. Forest Service.
Visit www.nvtrailfinder.com for more information