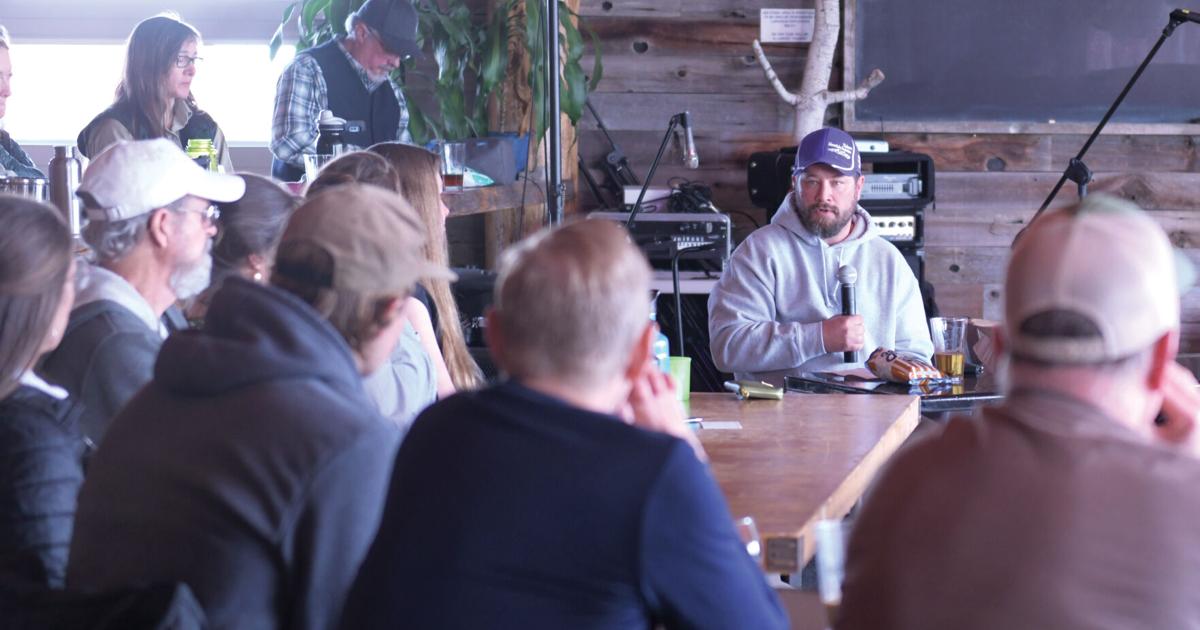 SHERIDAN – Collaboration and cooperation remain key for many recreational users of the Bighorn Mountains and Cloud Peak Wilderness. This collaboration could soon increase with the help of a government agency, an open dialogue between user groups and the need brought about by the increasing popularity of the field.
Five panelists recently discussed recreation in Sheridan County and the surrounding areas from a variety of perspectives, from horseback riding through the Cloud Peak Wilderness to teaching others how to maintain trails and roads as a cross-country skier or four-wheeler enthusiast. Potential ideas for future collaborations culminated with Patrick Harrington, director of the Wyoming Office of Outdoor Recreation, noting the potential for a collaboration between Sheridan and Johnson County, modeled after seven already established collaborations statewide.
There are currently functioning outdoor recreation cooperatives in Bighorn Basin, Great Divide, Natrona County, Northeast Wyoming, Park County, Sweetwater County and Wind River. The Bighorn Basin Outdoor Recreation Collaborative represents communities located in the eastern and southern portions of the Bighorn Basin and was the state's first collaboration, put together in 2018.
"Agencies like the Forest Service and Bureau of Land Management turn to BBORC to understand what Bighorn Basin communities want to do and to prioritize projects," the website reads. "BBORC also works with other grassroots organizations, including the Tenslep Nowood Trailbreakers and the Hot City Alliance, to provide a comprehensive view of outdoor recreation opportunities in all of the communities they represent."
Harrington said a key purpose of the collaborations and his state office is to maintain the resilience of Wyoming's outdoor treasurers amid strong visitor growth since 2020.
"The future is now," Harrington said. "We don't get the on/off switch. The on/off switch exists out there somewhere, and it's on, and we have these people coming into our public lands.
"I think the most important thing is how we build our public lands and infrastructure to be resilient and make sure those things are there for our kids and our grandkids," Harrington continued.
These collaborations aim to build consensus to advance projects from a community perspective. The state agency serves as a gentle nudge to move projects forward.
"They're really great," said Harrington. "I'm excited to share the success stories of these collaborations with you; They have been well received and again it is the case that the basis needs to gush to a practical (application).
While issues between user groups can arise on the mountain, representatives from a diverse group of users shared positive stories about sharing the Bighorn Mountains at the Luminous Brewhouse Tuesday during the Lunchtime Conversations About Open Spaces hosted by the Sheridan County Chamber of Commerce.
Cloud Peak backcountry rider Phillip Huckins said while there might be a bad apple in a group of riders, he's had pleasant experiences with folks on the mountain. His group of equestrian enthusiasts focuses on maintaining trails for equestrians, particularly on the Red Grade Trail System.
Similarly, Travis Harnish works with the Bighorn Mountain Crawlers — a vehicle use group in the mountains — to teach their members how to respect trails and maintain public lands, rather than tearing apart non-motorized trails. Harnish said the ethic of taking the easy steps remains essential to the group's annual safari in the bighorns, which he has seen doubling in size year after year during the pandemic.
The group maintains a family-friendly atmosphere, helping to clean up trails, using chainsaws and allowing other users to borrow the group's equipment if needed.
Trail usage must remain cordial and collaborative, the moderators reiterated.
"Anyone has the right to use these trails as long as they're polite," Huckins said.
Harnish also mentioned education as an integral element in preserving public lands.
"Obviously a big part of what we can do on the ground is educate others," said Harnish.
Harrington said groups like the ones teaming up at the Luminous Brewhouse on March 22 could well be part of the upcoming Sheridan/Johnson County Collaborative, although he said the agency isn't quite ready to sign people up. A timeline for establishing the collaboration has not yet been established, but will be published in the newspaper, Harrington said.
Ashleigh Snoozy joined The Sheridan Press as a reporter in October 2016 before moving to the position of Editor-in-Chief in November 2018. She is from Colorado and graduated from Biola University in Los Angeles.