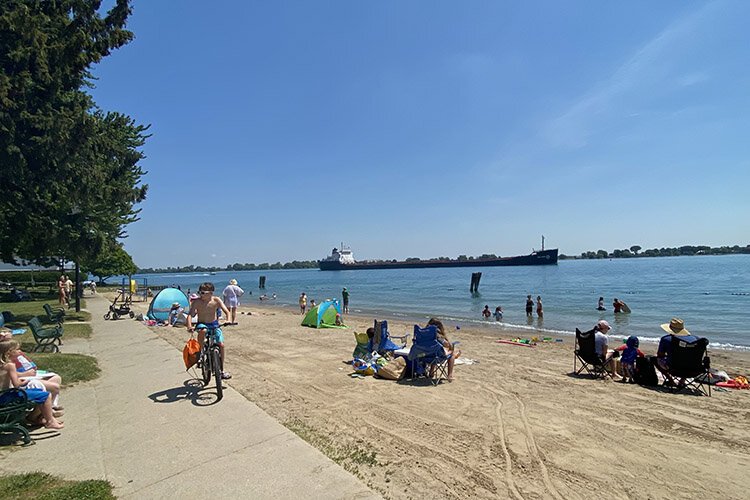 June 21st marks the official first day of summer, but for many this weekend marks the unofficial kick-off of a full season of outdoor fun.
Katie Stepp, marketing manager at the Blue Water Area Convention & Visitors Bureau, says St. Clair County, the southern end of Michigan's Thumb Coast, has a lot to offer during the summer months.
"Everything along the waterfront in the county is an attraction," says Stepp. "Seeing freighters passing so close by is one of the most popular things visitors ask about."
The Port Huron area is filled with parks, recreational opportunities, outdoor movie nights, pools, beaches, hiking trails and scenic picnic areas. Here's a roundup of some of the area's most popular spots and summer destinations, perfect for stays or day trips.
Algonac State Park in Algonac, Michigan.
camping
Visitors can spend an entire day or weekend watching cargo and staying at Algonac State Park, says Stepp. The 1,550-acre park features views of the St. Clair River, along the 50-mile Bridge to Bay Trail, campgrounds, hiking trails, archery and a rifle range. This park features 1,200 acres of natural area, prairies and rare habitats that are home to plants, birds and butterflies.
Another option Stepp recommends for camping is the Port Huron KOA Resort, which offers a variety of activities in Sawmill City. With two pools, bike rentals, miniature golf, gem mining, go-karts, batting cages and an arcade, there's no shortage of family fun. This campground near Lake Huron has 70 acres of RV sites, cabins, luxury cabins and tent sites. There's even a dog park, so feel free to bring your furry friend on family vacations too.
Stepp offers a third, unique camping option, St. Clair Boat Harbour. Though there are only nine locations, the course is within walking distance via the boardwalk to local restaurants and shops, and features canoe/kayak livery from The Pine River, a laid-back slow paddle. A local shuttle service can also transport campers to grocery stores, golfing, and more.
Summer day trips/staycations
For an educational as well as cultural experience, Port Huron provides the backdrop for a great summer day trip or stay. The grand opening of the new McMorran Plaza includes free outdoor films beginning Thursday evenings and other entertainment throughout the week.
According to Stepp, downtown Port Huron is the place to visit this summer. "They created a festive atmosphere with fairy lights on the main street, a social district for cocktail strolls, cozy pocket parks, and the charming nautical feel of drawbridges that open to cruise ships. If you haven't tried CityFloats floating ship bar yet, this is a must for summer fun. Spend the day at one of the beachfront sand bars, take a public art walk along the Blue Water River Walk and grab a cocktail and free concert in the evening – that's what summer is all about! You can now also rent a boat downtown jay's and explore the beautiful blue waterways," she says.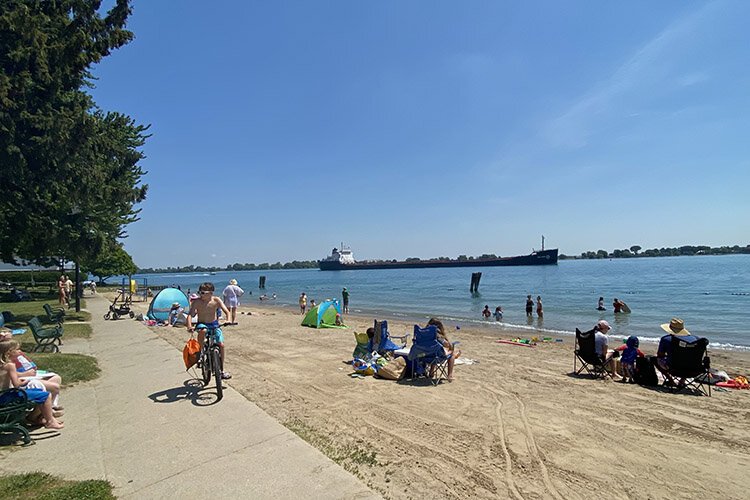 Marine City Beach in Marine City, Michigan.
Another walkable area is downtown Marine City with its close proximity to the beach, shopping, lodging, dining and entertainment. They also offer zander fishing trips hook one.
If you prefer a more relaxed getaway, consider St. Clair's laid-back vibe.
"There's something very relaxing about having a picnic in Palmer Park under a shady tree," says Stepp. "It's probably because of the breeze off the river and the sound of the waves hitting the seawall when a boat goes by."
Riverview Plaza Park in downtown St. Clair features comfortable Adirondack chairs and fire pits to sit in, and plans to host around 160 free outdoor concerts this season. This courtyard park is home to shopping and dining with additional outdoor seating options, including War Water Brewery, Mannina's Wine House and Drifters Restaurant and Lounge.
Parks & Recreation
Brittany Bezrutcyzk, marketing and communications coordinator for the Port Huron Parks and Recreation Department, says there are a plethora of ways to get out and enjoy the sun this summer. A new program, the Parks Passport, launches this season.
"We've had a lot of upgrades at several of our parks over the past year," says Bezrutcyzk. "We just wanted to get people involved, and the Parks Passport is an outreach program for our kids. You can come to all seven of our parks that have new and current upgrades. They take a picture, come into the leisure section and we stamp the parks they've been to in their passports after we've verified them from their photos. If they visit all seven parks, they get a free t-shirt."
Children ages 3-12 may register in person at the Recreation Department at 2829 Armor St. Port Huron to receive their pass and provide their t-shirt size. The program runs throughout the summer.
"Of course, with COVID, many outdoor leisure activities have become very popular, and we just want to keep playing and being active outdoors," says Bezrutcyzk.
The program also aims to make the community aware of the many parks in the area. Another popular warm-weather activity for kids is the paddling pool. According to Bezrutcyzk, the city of Port Huron maintains three separate splash guard areas, including the largest on Lakeside Beach.
Other free splash pads include the Stebbins Family Splash Pad at Knox Park, open May 30 through September 5, and the McMorran Place Plaza Splash Pad, open June 2.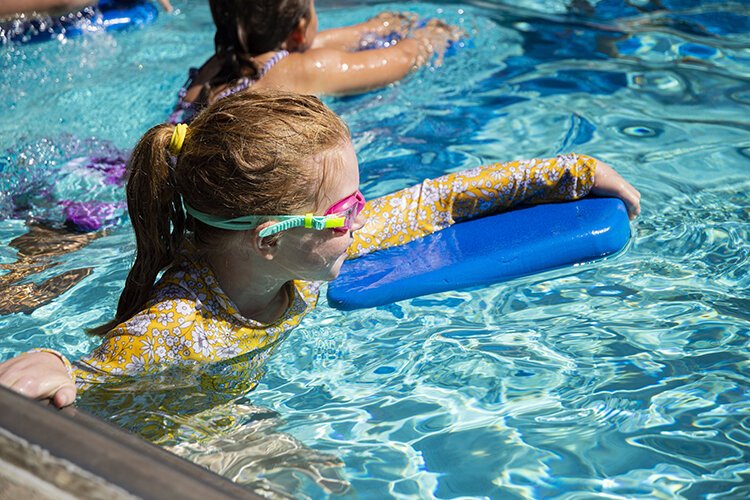 Children enjoy the pool in summer.
Pools & Beaches
Swimming is always hot in the summer, and here are some hotspots to cool off, according to Bezrutcyzk. The City of Port Huron maintains two free public swimming pools, Sanborn Pool (open Saturday and Sunday 2pm to 7pm) and Court Street Pool (open Monday to Sunday 2pm to 7pm). The open bathing season lasts from June 23rd to August 19th.
Lakeside Beach and Lighthouse Beach are two options for those who prefer a sandy environment for swimming. The beaches are open to the public, but individuals require a beach pass to park. Passes are available from May 30th through September 5th at beachside parking booths. City of Port Huron, Port Huron Twp. and Fort Gratiot Twp. Residents can get a free parking pass for the beach season. St. Clair County residents can get one for $35. One-way beach park passes for Lakeside Beach are $5 for St. Clair County residents and $20 for out-of-county residents. One-way Lighthouse Beach passes are $5 for St. Clair County residents and $10 for out-of-county residents.