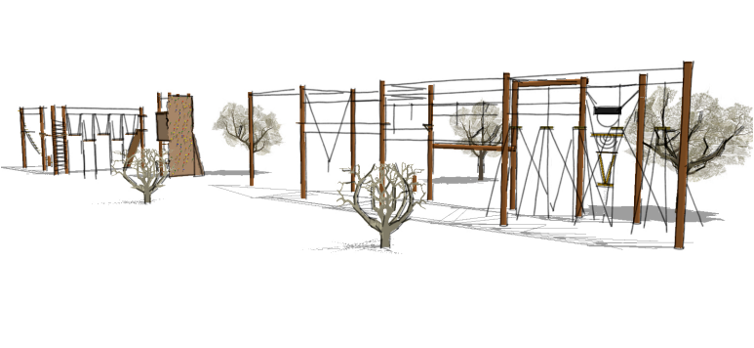 Rippleffect, a Portland-based nonprofit that promotes youth development and leadership through outdoor activities, is partnering with Portland Public Schools to build a $300,000 outdoor recreation center for children.
The Rippleffect Outdoor Center, which received the green light from the City of Portland this week, will be located adjacent to Rowe Elementary School at 23 Orono Road. The public facility will include 14 ropes course elements, a 45-foot four-sided climbing tower and two yurt classrooms.
Adam Shepherd, Executive Director of Rippleffect, predicts that the center will be "the hub of equal access for all Portland youth where they experience individual challenges, learn new outdoor skills, build connections and discover new possibilities within themselves and you can see the world around you."
Courtesy / Ripplefect
A 45-foot, four-sided climbing tower will be a prominent feature of the Rippleffect Outdoor Center.
Rippleffect, which employs 10 year-round and 30 seasonal employees, has an annual operating budget of just over $1 million. The organization conducts most of its programs on Cow Island, the waters around Casco Bay and the wilderness of the White Mountains in New Hampshire.
"The mainland location," Shepherd said, "will become the home base for our year-round outdoor adventures and provide more opportunities to meaningfully engage with Portland's youth through new and existing partnerships."
Xavier Botana, Superintendent of Portland Public Schools, spoke of the collaboration as an example of the best partnership in the community.
"We have a long-standing relationship with Rippleffect and the unique skills and important programming that are introduced to our students," he said. "With the new Rippleffect Outdoor Center directly in the background, the possibilities are expanded even further and are available all year round."
A spokeswoman for Rippeffect told Mainebiz that the group has raised $140,000 for the project so far, including $70,000 from the Davis Family and Davis Conservation Foundation, and $70,000 from major donors.
Construction of the first yurt classroom and floor elements is slated to begin this fall, and the entire site is slated for completion next spring. High 5 Adventure Learning Center, a nonprofit educational organization based in Vermont, will build the high ropes portion of the structure.
More information
More details about the project, including information on how to donate money, time or equipment, can be found here.