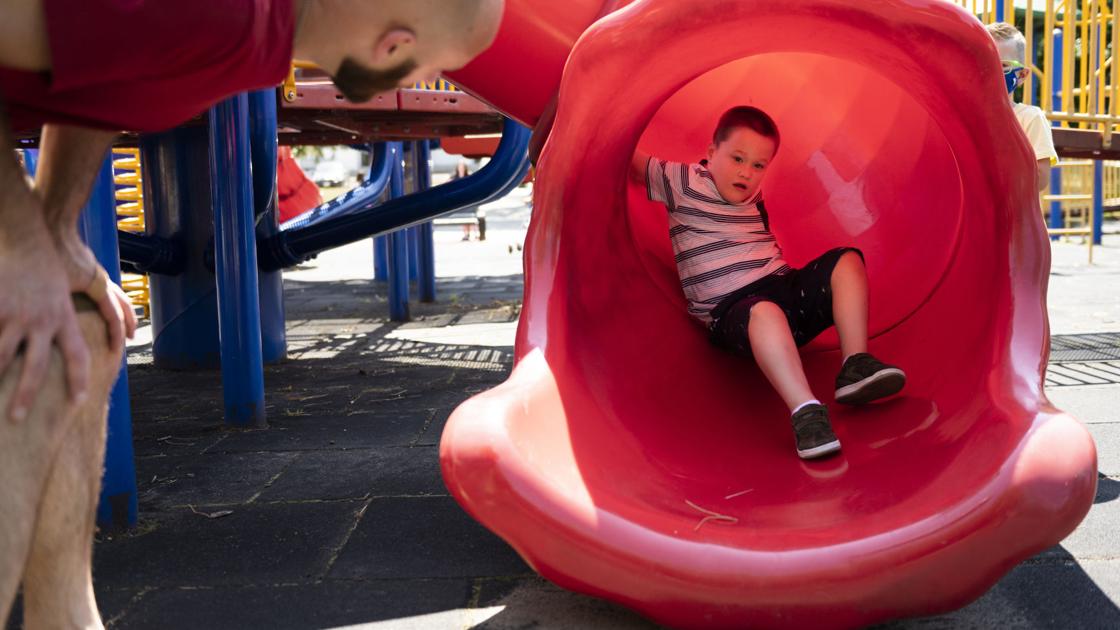 Six-year-old Beckett Olson, who has autism, meets his father Cameron at the bottom of the slide when he was playing at Antelope Park recently.
EAKIN HOWARD, Journal Star


The Lincoln Parks and Recreation Department invites the public to complete a survey on the inclusivity of playground areas.
The survey is available at parks.lincoln.ne.gov. Printed copies are available from the Parks and Recreation Offices, 3131 O St., all municipal recreation centers, or by calling 402-441-7847. The deadline for submitting the survey is October 20th.
Parks and Recreation Department staff and a group of advocates and experts are working together to develop a strategic plan for integrating inclusive playgrounds into the city's park system, said Lynn Johnson, director of Lincoln Parks and Recreation. The information provided by the survey will help support the development of a strategic approach to increasing the opportunities for inclusive and adaptive outdoor play in playgrounds in city parks.
Johnson said nearly all of Lincoln's 91 playgrounds meet US Disability Act requirements by making them accessible; however, they may not make ideal inclusive play possible. Inclusive playgrounds, he said, allow access with mobility aids, but also allow children and adults with disabilities to use the devices alongside those without disabilities, and offer play features that stimulate the senses through touch, sound, and color.
"A well-designed inclusive playground allows visual monitoring by parents and carers and provides quiet spaces for children to retreat to when needed," said Johnson Interacting with it. "