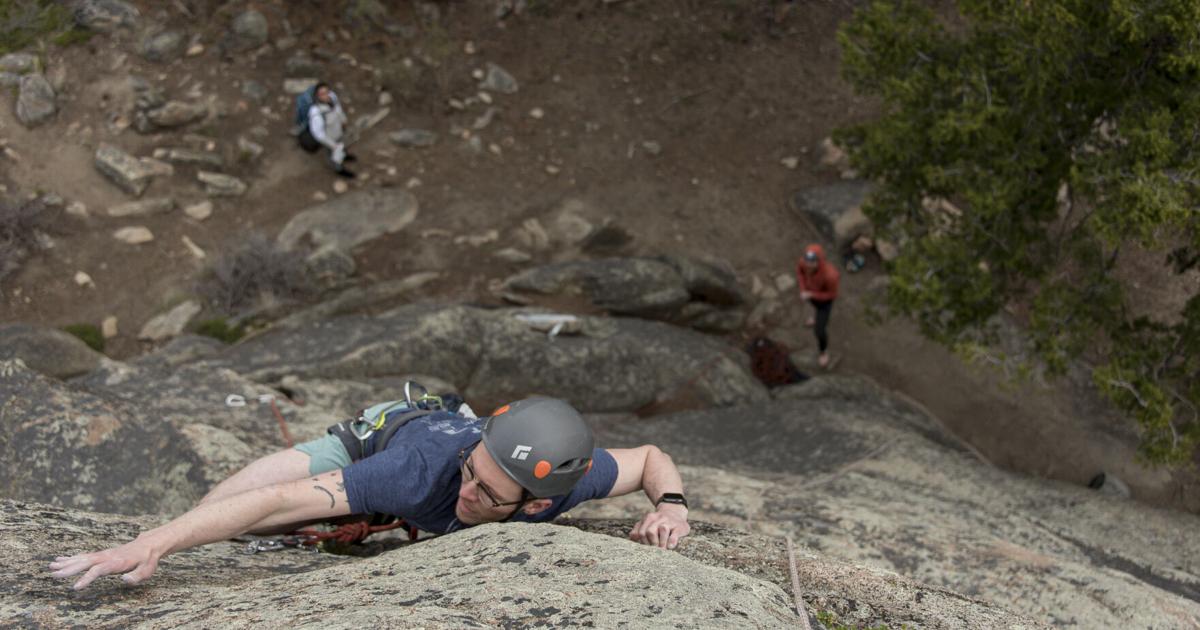 From Spire Rock in Pipestone to Sheep Mountain in Clancy, which punctuates the granite outcrops that jut through the ground from the Boulder batholith below, no fewer than 150 routes through the county attract local climbers and those from southwest Montana and offer an up close and personal experience and personal way of literally getting in touch with the geology that gives Boulder its name.
Routes range in difficulty from easy climbing to vast expanses of overhanging, featureless granite that seem impossible to scale – but climbers have found a way. Regardless of the difficulty, all routes and crags offer easy access and breathtaking views of the surrounding landscape, which must be earned through vertical achievement.
Some routes – traditional or heritage routes – require climbers to place detachable gear in cracks to protect them in the event of a fall. Other, called sport routes, have bolts along the way, allowing climbers to attach their ropes to a bolt with a carabiner rather than attaching their own detachable gear. Others have top anchors that can be reached by a hike or scramble, allowing a rope to be attached to the top without ascending first. these are referred to as top rope routes. Climbing routes are graded by difficulty from 5.1 to 5.15, with routes rated 5.10 and harder divided into four sub-categories: a, b, c, d.
Schafberg
The granite crags and pinnacles on the south face of Sheep Mountain near Clancy have been a favorite crag for climbers from the Helena region for decades. Exit Interstate 15 at Clancy, go northwest past the Legal Tender restaurant, keep right and take Cutoff Road to Lump Gulch Road, then go west. Immediately after the road surface becomes unpaved, turn right onto Sheep Mountain Road.
First, head to Haystack Rock: Drive 1.7 miles up Sheep Mountain Road, pass the turnoff marked to the crag and turn right immediately after into the parking lot. Haystack holds a variety of climbs, from 5.6 cruisers to 5.10d challenges, many of which feature top-rope anchors that are easily accessed via a no-rope via ferrata at the north end of the formation . There are enough parking spaces and the belay points at the end of the routes are spacious and flat. The views of the Elkhorns and Casey Peak are second to none – but you have to climb to the top first.
For a greater challenge and longer adventure, take the crag turn-off to gain access to the Right Rock and Upper Rock areas, which offer a variety of intermediate and difficult tram routes climbing south-facing granite peaks. Other climbs are scattered across the mountainside.
tower rock
Rising from a sagebrush valley riddled with off-road trails, Spire Rock offers a few dozen routes over two granite towers in the high desert. From the Pipestone exit on Interstate 90, go north on Delmoe Lake Road for 8.5 miles. Turn right onto US Forest Service Road 8639, then turn left onto 8636 which ends at a parking lot at the east base of the towers.
The north face of Queen Tower – the southern of the two towers and directly west of a gully from the parking lot that runs between the two formations – contains at least 19 routes, mostly top rope, ranging from 5.6 to 5.12d. For a longer day, look north to the King for trad routes that soar up to 140 feet.
More climbing
Homestake Pass, just west of the Pipestone exit on I-90, offers nearly 100 bouldering "problems" — short climbing challenges, generally less than 15 feet tall, that are climbed without a rope and emphasize movement techniques over vertical ascent. There are also a handful of climbing routes there. You can also find a few dozen bouldering problems around Ringing Rocks, accessible from the Pipestone exit, and bouldering and rock climbing at McClusky Mountain north of it.
Try two moderate sport routes on a cliff face along Elkhorn Road east of Boulder, directly across from the trailhead of the Twentyone Gulch trail. And there's a handful of bouldering problems — and near-endless potential for more — on the western slope of Bull Mountain, near the peak of Whitetail Road south of Boulder, uphill from USFS Road 9497.
For more information on crags, routes and locations, visit mountainproject.com or pick up a copy of Central Montana Rock, a guidebook available at the Base Camp Store and Stonetree Climbing Gym in Helena.
Editor's Note: Rock climbing is inherently dangerous and even small mistakes can result in serious injury or death. Before climbing, make sure you and your partner have the right gear and training. To learn more about getting started rock climbing, contact Base Camp, Stonetree, or the Helena Climbers Coalition.