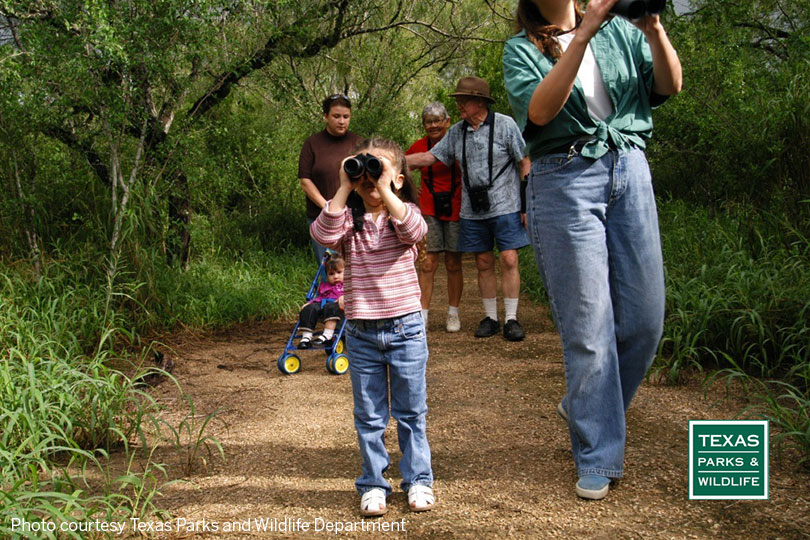 To give more youth the opportunity to get outdoors and experience Texas wildlife, the Texas Wildlife Association (TWA) is hosting a Land, Water and Wildlife Expedition November 19-20 in Wimberley.
The event is open to youth aged 11-17 and a parent or guardian and focuses on bird watching.
"We will arrive at the property on the morning of November 19, a Saturday, set up camp, acclimate everyone, get to know each other a little and then really immerse ourselves in the birding experience," says Chad Timmons, TWA's conservation education expert. "We will be working with mentors from our program along with some master birders from the local chapter of the Audubon Society to teach participants how to use binoculars and how to integrate some citizen science apps."
Attendees will also learn about birding practices, bird habitats, and how citizen science apps can track their observations while contributing valuable data to others in the birding community.
The expedition is an opportunity for youth interested in primitive or near-primitive camping.
"We will have access to electricity and water but really no facilities. We'll be camping and we'll have our outdoor kitchen," Timmons said in an interview with the Texas Farm Bureau Radio Network. "We have all the necessary equipment to make everyone's stay comfortable. It's a good bridge to true primitive camping."
The cost is $100 for a youth/adult couple. Meals and snacks are provided.
Camping and birding gear are available for those who need them.
"We were able to get some binoculars for class, and we'll also have some iPads available with all the systems and citizen science apps already installed," Timmons said. "If they just state their needs when they apply, we can make sure we can accommodate them appropriately."
The goal of the program, Timmons said, is to give youth a chance to experience the outdoors and wildlife of Texas.
"We at TWA have had the Texas Youth Hunting Program (TYHP) for quite some time. This is just a program to piggyback on and provide some additional outdoor experiences," said Timmons. "TYHP is doing a really great job teaching Texans not only the recreation of hunting, but how it fits into the conservation model. So this program does something similar only with other forms of recreation like bird watching, fishing, photography and the like."
Space is limited.
Young people can apply here.