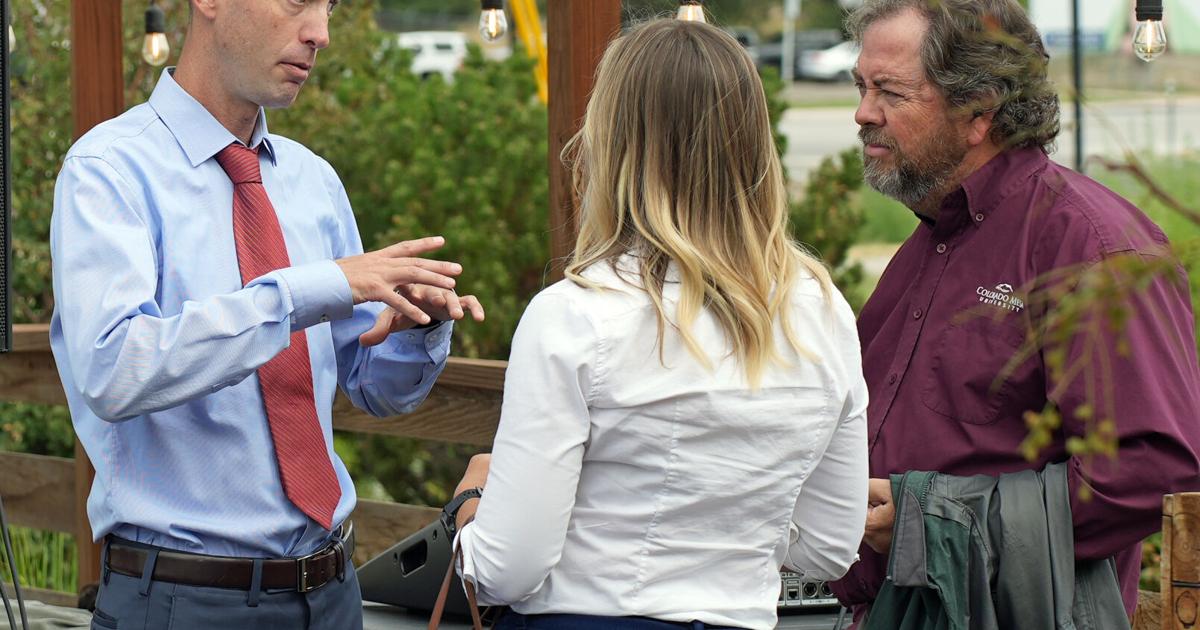 Mesa County's outdoor recreation industry is ahead of statewide economic impact figures, according to a long-awaited report released this week.
Nathan Perry, Associate Professor of Economics at Colorado Mesa University, has compiled a report detailing the economic impact of Mesa County's outdoor recreation industry. The report shows that Mesa County has a higher GDP (gross domestic product) from outdoor recreation than the statewide figure — 4.8% countywide compared to 3.1% nationwide — and that outdoor tourism has a greater economic impact have the county as standard tourists.
Perry presented his findings Wednesday at Base Camp Beer Works to local representatives from outdoor recreation businesses and nonprofits, education partners, tourism partners and economic development professionals.
"I've been asked to do this study for years, but I haven't had the time because I've been working on other projects. I was excited when I finally got to do it," Perry said. "One of the motivations for me to do this is that no one has appreciated the economic impact of outdoor recreation in the county, so it excited the academic in me to try something new. I used a method that I felt was powerful to get an estimate for an area where, to my knowledge, it really hasn't been done."
Perry used statewide data from the Bureau of Economic Analysis and the Statewide Comprehensive Outdoor Recreation Plan for his research. He also relied on the Grand Junction Economic Partnership to identify more than 150 local businesses involved in outdoor recreation and outdoor recreation tourism because national, state, and regional estimates were available, but no county estimates.
The bases of Perry's calculation consisted of four facets of the income approach: labor income (or wages), rental income, interest income, and profits. He then used IMPLAN's economics software to determine three economic effects: direct effects (one or more production changes or expenditures made by producers or consumers as a result of an activity or policy), indirect effects (business-to-business purchases take place in the supply chain in the region arising from the initial purchases of industrial inputs) and induced effects (values ​​arising from household expenditure of labor income after taxes, savings and commuter income).
The report identified five categories of outdoor recreation businesses: trail/road, water, winter, wildlife, and others (such as RV camping, picnicking, target shooting, rock climbing, team or individual sports, and playground activities). .
Companies that participated in a survey conducted by Perry identified trail/road activities as the most popular core activities, accounting for 50.9% of outdoor activities, followed by water-based (18.2%), other outdoor activities (16.4 %) and wildlife activities (9.1%) and winter activities (5.5%).
45 outdoor recreation businesses reported payroll totaling $27,978,664. Extrapolating these numbers to the entire outdoor recreation business population yields an estimate of $93,262,213 in total wages for Mesa County's outdoor recreation industry.
Four of the five categories of outdoor recreation businesses rely more on full-time employees than part-time employees — 250 out of every 300 employees in businesses based on water-based activities are full-time employees — but trail and road businesses are more than 350 part-time employees, with the exception of more than 250 full-time employees.
Perry has created a table presenting his insights into the economic impact of outdoor recreation businesses.
As a direct impact, there are 3,690 employees with an earned income of $98,466,896.
Direct GDP is $131,254,953 and total output is $198,892,817. If you add the indirect and induced numbers, the total number of employees is 2,501; $131,925,902 earned income; $190,673,455 GDP; and $318,783,484 in total earnings.
These numbers increase sharply when companies focused on outdoor leisure tourism are added.
The direct numbers rise to 7,620 employees; $200,550,181 labor income; $321,625,137 GDP; and $540,434,017 total earnings.
After adding the indirect and induced numbers, the total rises to 9,897 employees; $294,593,235 labor income; $484,474,065 GDP; and $875,063,799.
Perry said the county's direct GDP of 4.8% — rising to 7.2% when accounting for indirect and induced numbers — is an encouraging, if expected, result of the number crunching and determination in the 11% of Mesa County employees work the outdoor leisure industry.
"I was very happy with the results. It came in at what I think is a very realistic number," Perry said.
"We know that Mesa County offers more outdoor recreation opportunities than the Eastern Plains and some of these other parts of Colorado. I would expect these counties to have a lower number and counties like Mesa County and some other select counties to have a higher number. I think 4.8% is right where I think it would fall."
Perry explained the difference between GDP statistics and overall performance statistics using an example that he often provides to his Intro to Econ students at the beginning of each semester.
"Let's say we calculate the GDP for a car," Perry said.
"When we count GDP, we count the final sale amount of the car. If it sells for $15,000 then $15,000 is counted in that car. What we don't count is the $4,000 for steel, the $6,000 for plastic, the $15,000 the retail company sold it for. We're not counting any of those things because that would be $25,000.
"Real GDP, the real value of output, is what the final good or service is sold for, with all the value embedded in it. Total production looks at the steel company and says, "Oh, $4,000 steel. Oh, $6,000 plastic. Oh, the car company sold the car for $15,000" and it all adds up.
"Overall performance does not follow the GDP calculation. Overall performance represents how each company perceives it."
Perry's presentation kicked off Wednesday's Campfire Conversations at Base Camp Beer Works, where a variety of speakers discussed outdoor recreation.
Speakers included Conor Hall, director of the Colorado Outdoor Recreation Industry Office, Chandler Smith, co-founder of the Outside Events Cycling Series and member of the Grand Valley Outdoor Recreation Coalition, Scott Winans, vice president of Mountain Racing Products and member of the Colorado Plateau Mountain Bike Trail Association (COPMOBA), VanWinkle Ranch Co-Owner Janie VanWinkle, Rancho Duranzo Fruit Grower Gwen Cameron, Mesa County Child and Migrant Services Executive Director Nelly Garcia-Olmos, Alluvia Packraft CEO and Co-Founder Mariana Cevallos, Bin 707 Foodbar and Taco Party Co-Founder and Executive Chef Josh Kidney Mountain, Eureka! Jenn Moore, executive director of the McConnell Science Museum, and Libby Collins, program manager of the Colorado West Land Trust.