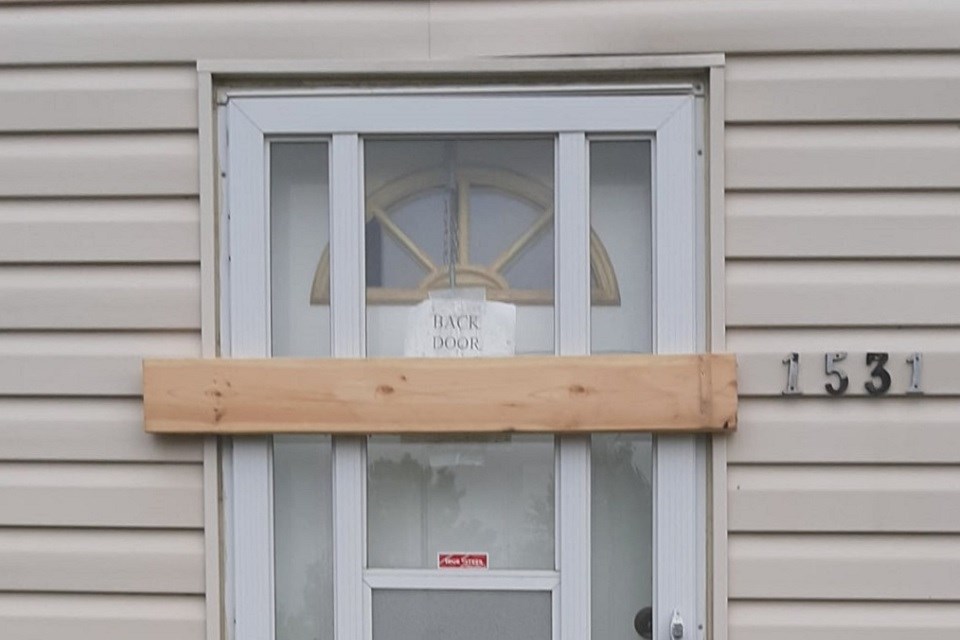 Aho says they lived amid mold and water damage for years. "It's all about the bad tenant, but once you have a bad landlord, nobody cares"
It was a tough time for seniors Terry and Patricia Aho as they packed up and, after 25 years as tenants in the same North Bay home, moved into their home on March 19.
"My wife cries every day," says Terry.
Aho says he's speaking out to raise awareness of the "broken landlord-tenant system" and to advocate for tenants' rights in the hope the same fate doesn't befall another family.
After using up their life savings to search for their son Robbie, who disappeared in 2009 and was never found, Terry says they have been unable to return to work due to ill health, they are living despite CPP and OAS damage at their home on Cholette Street , they continued to live there because the rent corresponded to their income.
Aho says he's seriously considering parking his RV on the lawn in front of the North Bay Municipal Office. "We have no other place to go."
See related: Homeless people pitch tents in City Hall's front yard to campaign for change
According to Aho, their landlords separated, and the first eviction notice came in April 2021. They want to sell the house, and they have every right to do so, but Aho suspects the sale is related to high demand for inventory and a market situation that is allowing sellers to divest troubled properties with standing renovation contracts.
Aho says he blames the city in part for failing to comply with or enforce property standards orders issued in July 2021 regarding mold and water damage in the home's basement, and he is considering filing a lawsuit against the city of North Bay . As for the condition of the basement in the video below, Aho calls it "downright ridiculous."
"The city did a tour, placed the order, and less than $100 in repairs were made to the house. Nothing was done to the shape," says Aho.
He adds that he's tried to endorse various agencies and organizations, but "they all pass the buck. Nobody cares. If I were a bad tenant and hadn't paid my rent in months, I'd be in the news. It's all about the bad tenant, but once you get a bad landlord, nobody cares," although Aho admits it's both.
See also: Tenants live rent-free in the landlord's head – and house
He also says the home's front door was taken out of service because an order to install a railing along the front steps was ignored by landlords. Aho points to a photo of a board blocking use of the front door (see photo above) as standard of the repairs they experienced. The City of North Bay confirms that there is an open property standards file at the address.
The family says that despite some recent arguments over the stress of the impending eviction, they have been good renters and have always paid their rent on time. Aho says when their original landlords sold the house to the current landlords about a dozen years ago, they were asked to stay on as tenants.
They agreed, and the new landlords, a married couple, promised they would do some renovations to "make the house the nicest on the block," according to Aho.
These exterior renovations took place — Aho claims the work was done without a permit — and tenants were initially happy. However, he says some excavation work around the foundation caused the water and mold damage in the basement, as seen in the photo gallery and video above.
The tenants, whose bedroom was in the home's uninhabitable basement, had to move everything upstairs, according to Terry, and they also lost use of the downstairs bathroom. Aho says this damage has been worsening for years. He says they paid the same rent for about half the original square footage.
Aho says they are appealing the eviction but will not have another hearing until they are due out on May 19. There are ongoing landlord and tenant committee files and pending litigation in this eviction matter. BayToday attempted to contact the landlords but was rebuffed and told to contact their legal counsel. As of the time of publication, BayToday had received no response from the landlords' attorney.
"They told us they would give us six months' notice" when we found out we were being evicted, "but then they only gave us three," says Aho. "Our hands are tied, the Landlord and Tenant Board is so slow, we're going on 10 months now. We had to adjourn our last meeting because we didn't have a file number. We still don't have it, four months later."
Aho concludes: "We want our tenants' rights to be protected, and we want compensation for having to live like this and being lied to."