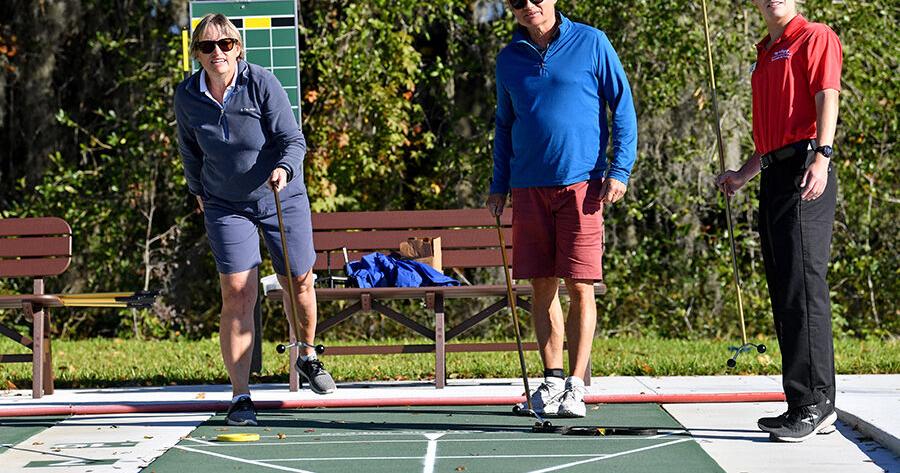 Gail Palmese can just walk across her backyard and she's in The Villages' newest, state-of-the-art recreation center. "I live right behind the Pickleball courts," said Palmese, whose home is adjacent to the new Clarendon Recreation in the Village of Richmond. "I was really excited to literally have everything in my backyard. We loved the thought of Richmond and being right on Brownwood (Paddock Square). Everything is so easily accessible. It's like the perfect spot." Thursday brought a double feature of recreational openings as Clarendon Recreation trailed Richmond Recreation's tape cut by about 30 minutes. "Two recreation areas opening on the same day demonstrate how invaluable the lifestyle opportunities are to our residents and how they embrace them," said John Rohan, director of recreation and parks at The Villages. "It's a beautiful day. The facilities and amenities are absolutely fantastic."
Madison Taylor, head of the recreation area, said: "You can see (every one of them) from one entrance to the other. I think residents will use both frequently."
Clarendon Recreation features a family pool, shuffleboard, bocce ball, corn toss, outdoor exercise equipment, pedestrian walkway, pickleball, tennis, platform tennis and clay courts.
Palmese was thrilled to learn that Clarendon has clay courts that can be used for both beach tennis and volleyball.
"My daughter-in-law likes to play sand volleyball," said Palmese, who recently moved south from the village of Linden. "She was excited when I sent her pictures that were literally on my doorstep."
Doc Harris, who himself recently moved from the village of Marsh Bend to the village of St Johns, was impressed by the range of amenities in Clarendon.
"I think it's beautiful," he said. "They packed a lot of stuff into this room. It's nice that they have a bike path right through the middle, a nice pavilion. It's well thought out – the outdoor training center, the clay courts are very nice, the pickleball courts are in excellent condition. It's close to my house which is a very big plus."
Harris is a pickleball coach and quickly noticed that the courts had more grip than usual.
"I have a feeling that maybe they put more sand in the paint than they did the places," he said. "So they're very grippy, which is good."
One block from Clarendon is Richmond Recreation which overlooks a lake and has an adult pool, bocce ball, corn toss, shuffleboard, dog park and pedestrian walkway.
"I'm excited," said Gary Polk, a newcomer to the Village of Richmond. "I've been here for 10 days and can't wait to use the amenities. It is great; All the things they will have here in a village are enormous. Nice place."
Bonnie Schnell, from the village of Richmond, said she will be spending a lot of time at the new recreation center.
"I love that there is so much to do here," she said. "We have the pool; we have the dog park — love the dog park. There's just so much to do here, so we're really looking forward to coming and playing. I will be here a lot. I can actually walk from my house to here. It's like a four-minute walk."
Fast said she's already imagining lying by the pool with a great view of the lake.
"Gorgeous, absolutely gorgeous," she said of the scenery. "Being able to lie by the pool and have a view of the lake is great."
Care has been taken to ensure that Clarendon and Richmond have a balance of passive and active amenities to keep the villagers occupied.
"It's a great place for people to come and enjoy our outdoor recreational facilities," said Taylor. "We have every outdoor amenity you can imagine here."
The double opening also comes just two weeks after Lake Okahumpka Recreation opened its doors to residents, just over a mile away on Meggison Road.
"It's just a beautiful combination to complement Lake Okahumpka," said Rohan. "This whole area has now come alive with recreation, parks and opportunities. The connectivity and accessibility is absolutely amazing."
Staff writer Jean Racine can be reached at 352-753-1119, ext. 5395 or [email protected]