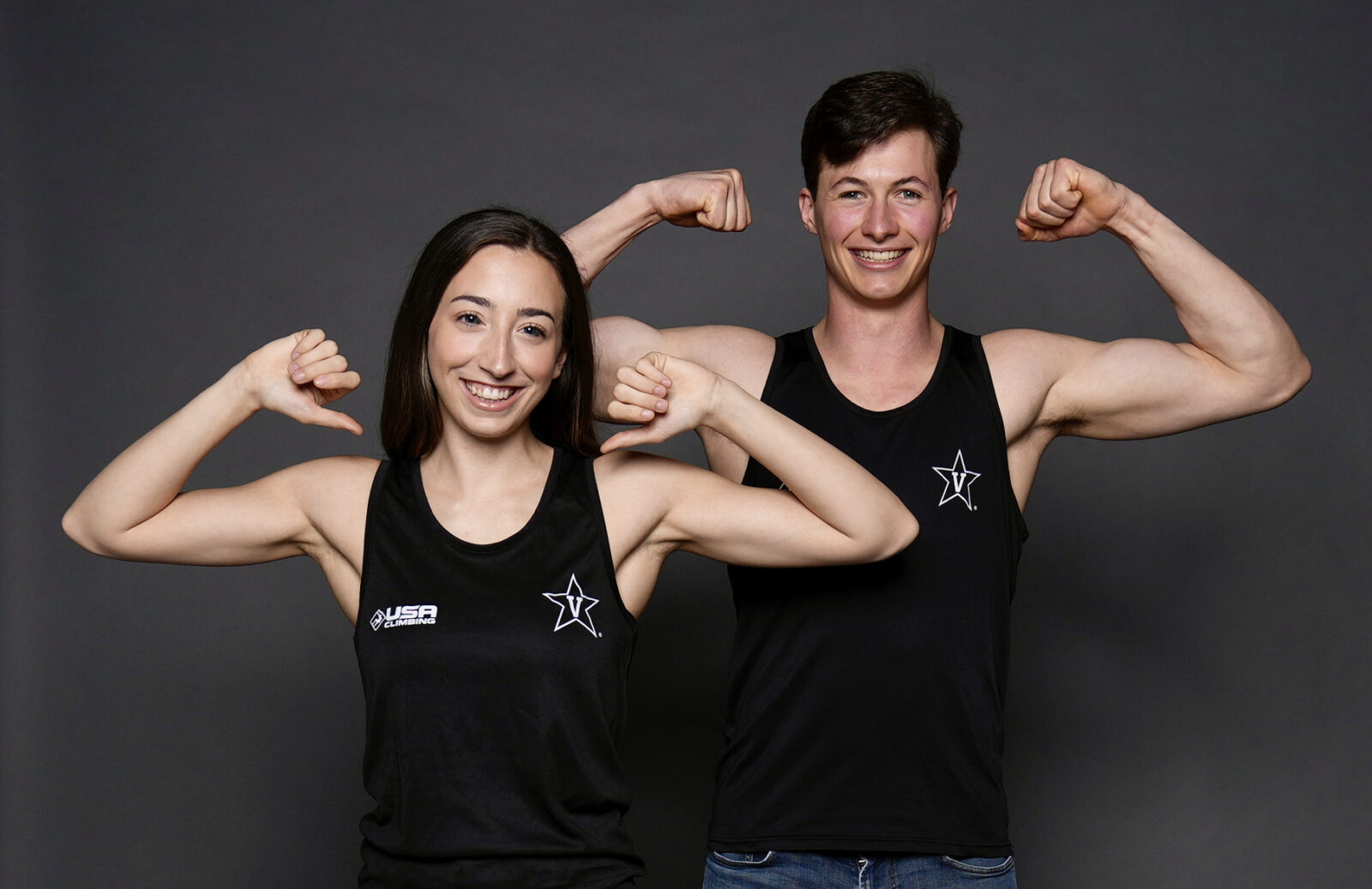 Olivia Busk and Michael Finn-Henry
by Amy Wolf
Strategically managing precise steps up a wall or cliff at breakneck speeds is exactly where Michael Finn-Henry, an engineering student and contender for the 2024 Paris Olympics, finds clarity. Speed rock climbing is a finesse sport that requires fast feet and an even faster brain.
"I look for the clear objective and then the minutiae of how to go about actually making that problem work and how to make the device work and how to work with my dyslexia. It's sort of that overcoming-obstacles trifecta."
CLIMBING PARTNERS
His scientific yin found a business-savvy yang when Finn-Henry launched the Vanderbilt Climbing Club, and medicine, health and society student Olivia Busk joined.
At the 2022 USA Climbing Collegiate National Championships, Michael Finn-Henry placed No. 1 in the country in speed climbing. The Vanderbilt Climbing Club team placed third overall in the country.
Olivia Busk training with the Vanderbilt Climbing Club (Submitted photo)
2021-22 Vanderbilt Climbing Club (Submitted photo)
PARTNERS IN INNOVATION
While climbing, the two found they share a passion for making a difference and an interest in medicine.
Busk had been an ambulance EMT for four years before transferring to Vanderbilt and discovering her affinity for blending business and medicine.
For years, Finn-Henry had been doing research in H. Fort Flowers Professor of Mechanical Engineering Michael Goldfarb's lab, where he had developed a keen desire to use his engineering skills to create life-changing medical devices.
Then the COVID-19 pandemic hit in 2020, cancelling climbing and their respective business and engineering internships.
"We decided why not try to find our own idea and make something work," Busk said.
"We have this great synergy," Finn-Henry added. "Me on the engineering side, her on the medical business side—and combining that, we could really make a big difference in the world."
SEARCHING FOR A PROBLEM TO SOLVE
The duo sent out hundreds of emails to faculty and staff at Vanderbilt University Medical Center asking for ideas or problems that could be solved with a device.
"We thought we were going to get zero emails back, but instead we received almost 200 replies and had so many incredible meetings," Busk said. "It honestly was one of the most shocking experiences because these medical professionals were so excited to work with two Vanderbilt students and dream up solutions to problems."
Finn-Henry and Busk soon met two VUMC surgical fellows who would become the founding partners of their company EndoShunt Medical.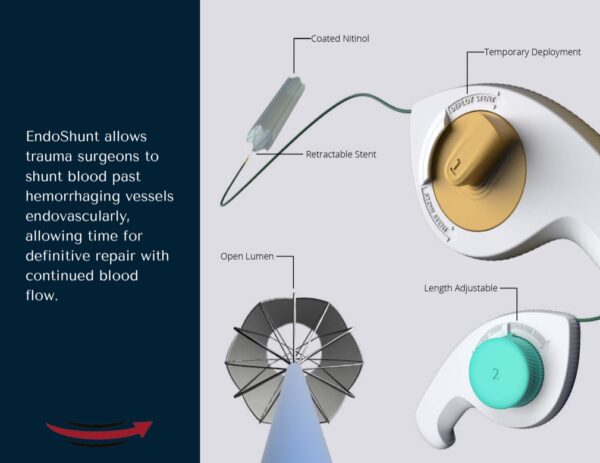 Graphic from the EndoShunt website explaining how the device works.
Behbahaninia explained that the device goes into the vein and creates a blockage of the hole, while a shunt allows necessary blood to pass, allowing the rest of the body to function normally.
Behbahaninia and Levin were working as active trauma surgeons during the I-Corps interviews, so Finn-Henry and Busk became quick-study experts in the field of hemorrhage control and conducted thorough interviews that shaped the success of the product.
"You need people as tenacious as Michael and Olivia to put these types of ideas into reality, and I have 100 percent confidence in our product," Behbahaninia said.
PIVOTAL MOMENT