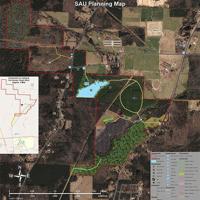 Southern Arkansas University plans to convert its 652-acre Laney Farm property into an "outdoor campus" for wildlife and agriculture programs, forest management, conservation and recreation.
The news came during Thursday's Arkansas Game and Fish Commission meeting. SAU has been working with the Commission for over a year to create a development plan for the property.
The SAU Foundation has owned the property between Magnolia and McNeil since 2005, but the university struggled to find a purpose for the land, which was part of the estate of former Arkansas Gov. Ben T. Laney and his wife Lucille. The currently most well-known use of the property is a trap shooting facility.
The new plan will transform the property into a place where students and the general public can enjoy nature and prepare for future conservation work.
AG&FC Education Chief Tabbi Kinion introduced the new strategic plan developed with Southern Arkansas University.
Kinion spoke about the value both organizations will receive through the partnership in the development of the property for outdoor recreation and education.
"They want to manage this property for an outdoor learning lab and recreation center that will draw students to their wildlife and agriculture programs," Kinion said. "On our side, we want well-trained future employees who understand wildlife biology and have hands-on wildlife management experience before they walk in the door. We also want to make recreational facilities available to the public throughout the state. The closest AGFC facility is approximately an hour and 15 minutes away (Rick Evans Grandview Prairie Nature Center)."
According to Kinion, AG&FC's talks with SAU began with a desire to expand the trap shooting range to make it a better environment for major tournaments.
"The potential for learning outdoors is extraordinary in a part of the state where we don't have a lot of educational activities," she said.
SAU President Trey Berry was excited about the new opportunities the outdoor campus will offer.
"What's happening here is my passion," Berry said. "And there are so many people on our campus who share the same passion for this program… We realized very quickly that this would be a special program that didn't exist in the ArkLaTex region."
CLICK HERE to view a video of the presentation to the Commission.
CLICK HERE for an interactive map with detailed outdoor campus plans.
The majority of the property is located along Columbia County Road 13. However, the property also includes land west and northwest of the intersection of County Roads 43 and 118.
The interactive map indicates that the northwest third of the property will be designated as a forest research reserve and forest research area. The forested area will have 66 hectares available for long-term research. A recently cleared tract of 45 acres will serve as a pasture management study area. Another 86 acres are reserved for grazing research.
A total of 79 acres are proposed for a managed timber acreage to generate revenue.
Approximately 33 acres are earmarked for the trap shooting range and a shot drop area. The bullet drop area contains lead from spent cartridges.
Outdoor recreation and education are key points of the plan.
A 18.97 hectare pond accessible from a new road off County Road 118 is proposed. Twenty acres on the north side of the border are reserved for camping and picnicking, restrooms, a gazebo, and parking lots. A boat launch would be used to monitor the pond by researchers from AG&FC and SAU.
The pond would be in the shape of a rough rectangle, about 2,000 at its widest point and about 400 to 500 feet in diameter.
The Louisiana & North West Railroad bisects the property from southwest to northeast on the east side of Laney Farm.
A welcome center is proposed on the east side of the property at 13 County Road. It will be built on approximately 14 acres of native grasses. Part of the proposal is to convert part of the forest to grassland. The grasslands would be a haven for pollinating insects.
Around 40 hectares are intended for a 3D archery course along a loop.
An additional 90 hectares of wooded area is earmarked for general recreation, but its use is undefined except for a nature trail. It is proposed to extend the nature trail south to Harvey Couch Business Park.
"We want to see restored and sustainable habitats for native wildlife balanced with land for agriculture and logging. We want to see dedicated educational research spaces for agricultural and life sciences. We want to see modeling and sustainable land management for SAU students and local community members, especially local landowners, using this as a demonstration area," said Kinion.
Next steps include establishing a governance committee and formalizing the commitments of SAU and AG&FC to the property. Usage plan priorities need to be established. Kinion also wants to develop a plan that maximizes the use of the property by SAU students, faculty and community members
No funding plans have been announced for the proposed changes.