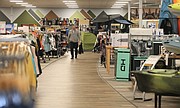 COEUR d'ALENE – Sportsman & Ski House at 213 W. Ironwood Drive is a 32,000 square foot outdoor paradise.
Wildwater Rafting? Check.
Golf? Check.
Camping? Check there too.
Company President Joe Power believes the recently opened new store has laid the groundwork for those who love to live and play outdoors.
He is confident that Sportsman & Ski Haus will thrive in today's competitive retail environment, particularly when it offers shoppers an environment that is spacious, relaxing and freeing – like the outdoors.
"We believe so," he said
Power said North Idaho's population growth and love of all things river, lake, mountain, hiking trails and ski slopes will result in consistent customers coming to the store.
For this reason, they introduced, for example, white water rafts, a special product that only a few carry.
"We're trying to find some brands that you either can't get online or that you really need someone to help you with to make sure you're making the right decision," Power said. "Touch, feel, those things are pretty important to a lot of people."
Sportsman & Ski Haus opened in its new location on February 25th. It used to be Tri-State Outfitters at US 95 on Sunshine Street.
For more than two decades it has been a fixture for the serious nature lover, known for quality and knowledgeable staff.
But it only had 8,000 square feet of retail space, so it was a bit cramped.
"The best thing about this store is the fact that we have space," said Carla Grieser, store manager who has been with the company for 25 years, almost all in Coeur d'Alene. "In the old store we were so tiny and carried so much, everything was stacked on top of each other. It was almost stressful shopping."
No longer.
Sportsman & Ski Haus leases the space formerly used by Shopko, which closed in 2019.
The new design was developed with comfort in mind. It offers wide aisles and trails that twist and flow easily, for everything from kayaks to rafting and camping to golf and sports.
The first reaction is what they were hoping for. The customers were happy.
"They love that it's reassuring, that it's a nice shopping experience," she said.
Tents and backpacks are ready for viewing.
Two golf simulators offer the opportunity to sharpen your swing. There are rows of golf bags.
One section is dedicated to sports like baseball, soccer, and basketball, while another focuses on shoes, Nike, Hoka, and Brooks, for running, hiking, and casual wear.
There are shelves of coats, pants, shirts, hats and gloves from brands like Patagonia, Columbia and North Face.
Details are important to create the right mood. A Yeti wine cup stands next to a book titled Edible Wild Plants, Mushrooms, Fruits and Nuts.
It's all designed for customers to enjoy, read, take their time and feel rested and not rushed.
"That opens it. It's bright, it's cheerful and it's easy to shop," said Grieser.
"That's what we wanted to achieve here," she continued. "It's relaxing. But it's not cramped. And we're trying to get all the fun toys that everyone knows."
Sportsman & Ski Haus purchased Tri-State in 2010. It retained the Tri-State name while affiliating with an employee-owned business. It also had more purchasing power. Gradually there was a transition from hunting and fishing to recreational activities.
When the opportunity to move to a new home presented itself, it was time to take on the company name.
Power said they were in talks to lease the new location in mid-2019 and were almost complete when COVID hit. They resumed talks in October 2021 and worked out the deal.
Renovation work started in September and ended in February.
The location just off US 95 and Interstate 90 is ideal for reaching customers traveling east, west, north and south.
"It's just a great place to get on and off the autobahn," said Grieser. "People come in, get their stuff and enjoy their day."
Sportsman & Ski Haus has stores in Kalispell and Whitefish, Mont., and continues to operate Tri-State Outfitters in Moscow.
The CDA store employs about 30 people and will add more as the need arises.
The store's opening hours are Monday to Saturday from 8 a.m. to 7 p.m. and Sunday from 9 a.m. to 6 p.m.
According to Power, the past few years have been challenging but also good for some brick-and-mortar stores like Sportsman & Ski Haus, which have been able to stock products as shipping costs for online retailers soared.
Power is confident that the industry will continue to grow.
According to the Outdoor Industry Association, the outdoor recreation economy generates $887 billion in consumer spending annually.
According to Statista, the number of outdoor leisure users is expected to increase to almost 81 million by 2025.
And they want gear that lets them enjoy it.
"We've seen a return of people coming into the store," Power said.
That's because they know their audience.
"People who want to go out enjoy the great outdoors here in Idaho. That's our goal here," said Grieser.