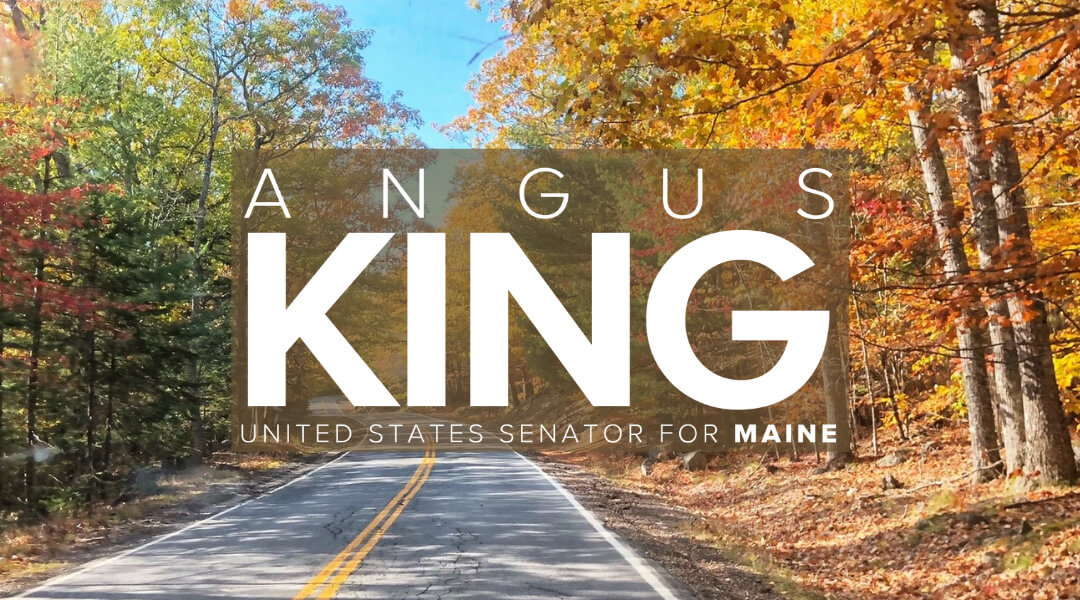 WASHINGTON, DC — The Office of US Senator Angus King (I-Maine), Chairman of the Senate National Parks Subcommittee, today released the April episode of Senator King's Inside Maine podcast, which explores the importance of America's national parks and nature supports communities in Maine. Senator King was joined by Senator Steve Daines (R-Montana), National Parks Subcommittee ranking member, and Tom Gorrill, President of the Maine Appalachian Trail Club. During the call, Senator King and his guests highlighted the recent legislative action Congress has taken to support America's greatest natural treasures, the challenges facing public lands from Maine to Montana, and some of the outdoor recreational opportunities that these Summer in Maine are available.
"Whether we're talking about the rocky shores of Acadia or the local nature reserve down the street, America's national parks and public lands preserve some of our nation's most beautiful landmarks, allowing people of all backgrounds to explore the majestic nature of the United States. ' said Senator King. "Not only do these public lands offer breathtaking beauty, they also serve as important economic engines for communities across our country. It was my pleasure to sit down with my friend and partner Senator Daines and Tom Gorrill of the Maine Appalachian Trail Club to discuss how we can protect America's best idea and the communities that rely on it for generations to come. Thanks to the hard work of leaders like Senator Daines and Tom, our beautiful lands are in good hands."
Steve Daines has served as Montana's junior senator since 2015 and previously as Montana's representative from 2013-2015. During his time in the Senate, Daines served on the Energy and Natural Resources Committee and was the senior member of the National Parks Subcommittee, where he worked to improve access to public lands, encourage locally owned conservation projects, and support America's outdoor recreation economy. In June 2020, Daines lobbied the Great American Outdoors Act to provide funds for land and water conservation and to address the maintenance backlog facing national parks and public lands across the country.
Tom Gorrill is President of the Maine Appalachian Trail Club (ATC). Tom, a UMaine graduate, retired in 2015 after a 37-year civil engineering career as President of Gorrill Palmer Consulting Engineers, a firm he co-founded in 1998. His interest in hiking was sparked at an early age when his parents, who loved hiking and camping, took him to one of their favorite areas: Gulf Hagas in northern Maine. His interest was reignited years later when he and his wife took their children camping on the Appalachian Trail. Tom joined the Maine Appalachian Trail Club and began volunteering in a variety of roles. Prior to his current role as President, Tom was District Overseer for the Baldpate District of Oxford County and served as MATC District Vice President and Chair of Governance. He is also a board member of the Maine Appalachian Trail Land Trust.
As an Energy and Natural Resources member and Chair of the National Parks Subcommittee, Senator King is one of the Senate's loudest voices in support of public land stewardship and the promotion of outdoor recreation. He recently received the first National Park Foundation (NPF) "Hero" award. Senator King helped pass the Great American Outdoors Act (GAOA) into law; Legislation includes the Restore Our Parks Act – a bill led by Senator King – and the Land and Water Conservation Fund (LWCF) Permanent Funding Act. The historic bill continues Senator King's career-long focus on environmental protection efforts, dating back to his work prior to running for elected office through his years as governor and his service in the Senate. During his time at Blaine House, Governor King was responsible for preserving more land in all of Maine than all governors before him combined.
The Inside Maine Podcast with Senator Angus King is a 30-minute program aimed at keeping the people of Maine informed about current affairs, their impact on life in the state, and her role in Senator King's work as one of two to hold independents in the US Senate. Senator King's podcast builds on his existing radio show, which typically airs on the last Saturday of each month between 10 a.m. and 11 a.m. on Newsradio WGAN in Portland, Maine.
To listen to Senator King's April Podcast, click HERE or find it on Apple Podcasts.