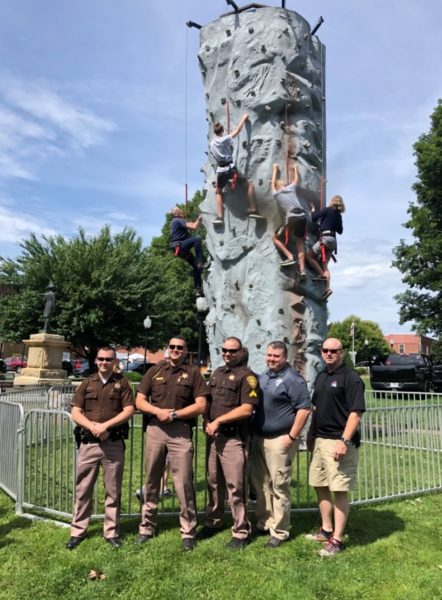 Adventure calls at this weekend's Healthy Yancey Sizzlin' Summer Series event. The series offers 12 weeks of fun, family-friendly and free physical activity opportunities. We invite children, families, and community members of all ages and skill levels to join us in Burnsville Town Square on Saturday, July 9 from 10:00 am – 2:00 pm.
Try your hand at rock climbing in the market square! Whether you're a first-time climber or a seasoned adventurer, experienced staff will help you navigate a mobile climbing wall! Big thanks to the Yancey County Sheriff's Department and Yancey Emergency Management for sponsoring this week's event.
Healthy Yancey is a program of partners focused on health. It is a partnership of concerned citizens working together to improve the quality of health for everyone in Yancey County. Healthy Yancey created the Sizzlin' Summer Series to improve connections between neighbors and people, increase physical activity, and create fun ways to play and be active in our community.
For more summer fun and schedule updates, please visit https://bit.ly/sizzlin-summer-series, visit the Partners Aligned Toward Health Facebook page, or contact [email protected] Any weather-related updates on the morning of the event will be posted on the Partners Aligned Toward Health Facebook page.