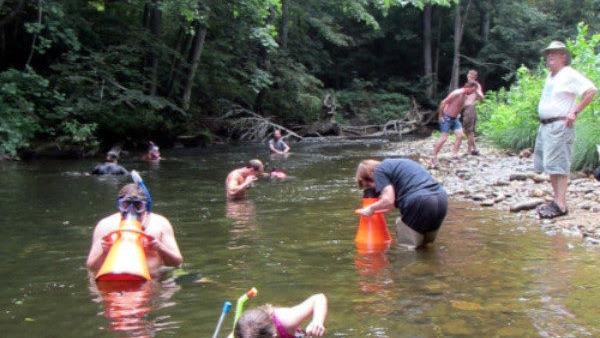 Explore the marine life and aquatic life beneath the surface of the Pigeon River with an expedition led by the Haywood Waterways Association on Saturday, August 14th.
Snorkel gear, underwater observation boxes, and nets are provided to explore the pigeon's insects, salamanders, fish, and other fascinating creatures.
The southern Appalachians are one of the most biologically diverse places on earth. Many species of salamanders, clams, and aquatic insects are endemic, which means they don't appear anywhere else than here. This is an opportunity to see some of these animals up close.
Haywood Waterways takes reservations every hour on the hour from 10:00 AM to 1:00 PM. The number of participants per time slot is limited to 10. The exploration takes place behind the jukebox Junction Soda Shoppe in Bethel.
The event is part of Haywood Waterways' Get to Know Your Watershed series of outdoor recreational activities. The organization works to maintain and improve Haywood County's waterways through education, civic engagement, and partnerships.
The event is free for members and a $ 5 donation for non-members. Memberships at Haywood Waterways start at $ 25. Please leave pets at home.
RSVP by 5:00 p.m. Thursday August 12 to Christine O'Brien at [email protected] or 828-476-4667, ext. 11.