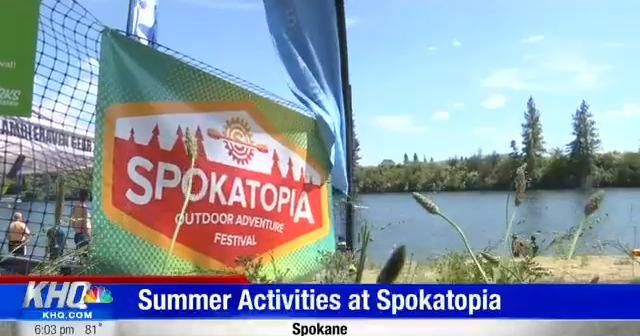 SPOKANE, Wash. – On Saturday, the fifth episode of Spokatopia took place at Camp Sekani Park on the north bank of the Spokane River.
"Being outside is so good for mental health, community and connection," Shallan Knowles said.
Because Spokane is something of an outdoor enthusiast's utopia, Kowles and her husband Derek founded Spokatopia to celebrate all the diverse outdoor recreation opportunities the Inland Northwest has to offer.
"There's a lot of space, there's a lot of ports, so the goal is to get people playing," Knowles said.
Live music, community vendors, a food truck and a beer garden filled the lawns of Camp Sekani Park while attendees enjoyed Spokatopia's main attractions – bike demonstrations, paddleboard and kayak demonstrations and a BMX jump show.
Jack Adams said he works at a bike shop in Hayden, Idaho, and the outdoor community is second to none.
"I've heard about the event for so long that I just wanted to get out and see it," Adams said. "It was so much fun, the people you meet here are so great."
While it is indeed a celebration of all things outdoors, organizers say the main goal of Spokatopia is to lower or remove the barriers that might be preventing people from getting outside and exploring.
"So we wanted to give people the option to hop on a paddleboard and see how it feels, or hop on a kayak and paddle a bit in a safe area with experts so they can feel what it's like to do some of these really fun activities so they can do them on their own without a lot of help," Knowles said.
Spokatopia organizers say they plan to bring the event back to Camp Sekani Park next year on July 8, 2023.