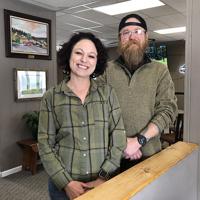 STURGIS — They say necessity is the mother of invention.
That's certainly true of siblings Richelle Bruch and Travis Bartels.
The two reached breaking point because they had to leave town to buy sporting goods, so now they're opening a store called Sports Adventure Fun in downtown Sturgis.
It is slated to open May 2 at 920 Harley-Davidson Way in the former home of Xtreme Dakota Bicycles.
Bruch will focus on youth sports and Bartels on outdoor adventures like backpacking, camping, kayaking, fishing, hiking and more.
"There is a big push for Sturgis to become an outdoor recreation destination. We have all the potential and tools, but as a community we need to start supporting that," Bruch said. "We want to be the heartbeat of the sports and outdoor lifestyle for Sturgis."
The two say the idea for a sports shop has been dormant for a year or more.
Bruch's two sons play soccer year-round and she would either have to travel to Rapid City to buy soccer boots or order them online.
"I'm such a big supporter of shopping local and staying local that I just got over it. I was over giving someone else my money that should stay here in town," she said. "Just watching all these families have to leave Sturgis to buy things kind of annoyed me."
She cited the example that about 250 families are involved in football in Sturgis.
"That's 250 families that need cleats and shin guards that have to travel to Rapid to get them," she said.
Sports Adventure Fun will stock both new and used sporting goods, Bartels said.
"You can basically trade in last season's gear," he said.
And if they don't have something in stock, they can order it within three to five days, Bartels says.
"It's a pretty quick turnaround. If someone comes in and wants a custom order, I can get it pretty quick," he said.
They also carry hiking and running shoes, as well as adventure gear such as backpacks, tents, sleeping bags, cooking systems, and many related accessories.
Bartels said he loves outdoor recreation and is a frequent camper at Orman Dam (Rocky Point Recreation Area).
"I backpack. I hike, mountain bike, hunt and fish a lot," Bartels said.
The siblings grew up in the Black Hills after their parents served in the military.
"Our target audience is friends and family, people we grew up with," Bartels said.
Bartels, who graduated from Sturgis Brown High School in 1995, currently serves as the Food and Beverage Director at Boulder Canyon Golf Club.
Bruch worked in the catering industry for over 20 years, worked at insurance companies for a while and is now active in the real estate sector.
They will both keep their day jobs and hire one employee to oversee the business from 9am to 6pm Monday to Saturday.
"We're going to have one employee in the store initially, and hopefully as we grow we can get more into it," Bruch said.
The brother-sister duo is a bit nervous but more excited about the store opening.
"I just think it's going to be so much fun," Bartels said. "Yes, we sell sporting goods, but we really want to sell community."
Bruch admits she's a little nervous, but believes they have the community's support behind them.
"I'm actually not afraid of failure, it's more a question of whether we can live up to expectations," she said.
To read all of today's stories, click here or call 642-2761 to subscribe to our e-edition or home delivery.