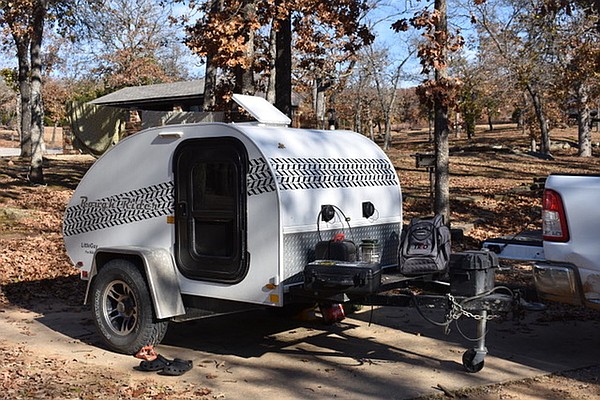 You don't have to wait for summer to enjoy an outdoor vacation in Arkansas. The State of Nature is beautiful in winter when you can have some of our most desirable locations all to yourself.
Arkansas' travel tourism season kicks off Memorial Day weekend, so winter attendance at our most popular state parks is relatively light. Whether your passion is fishing, hiking, paddling, hang gliding, or rock climbing, there's a campground, resort, or campground that will bring you closer to your passion.
trout fishing
Some of the best trophy brown trout fishing occurs in the winter, and a stay at Bull Shoals-White River State Park in Lakeview below the Bull Shoals Dam gives you instant access to some of the world's best fishing.
The park has 113 campgrounds, including 63 fully-equipped AAA campgrounds for RVs, 30 Class B sites and 20 tent sites. There are also three locations with RVs that you can rent. You can rent boats at the marina, which also sells bait and gear.
If you don't have an RV, there are several great resorts on the White River including White Buffalo Resort, Gaston's White River Resort, Stetson's Resort and Cedarwood Lodge.
Across Bull Shoals Dam is Bull Shoals Lake, one of our best all-around fisheries for largemouth, smallmouth bass, hybrid striper, crappie and walleye.
The Corps of Engineers operates several campgrounds on the lake. For more information, see https://www.swl.usace.army.mil/Missions/Recreation/Lakes/Bull-Shoals-Lake/
wild Water
Late winter and early spring rains swell our mountain rivers and streams to create some of the South's most exciting whitewater. From gentle Class I-II whitewater on the Buffalo National River to Class V whitewater on the Skullcrusher Rapids of the Cossatot River, there's a waterway for every skill level. They also have Class III-IV whitewater at certain times on the Big Piney, Little Piney and Mulberry Rivers and the Illinois Bayou.
Luckily for paddlers, there are campgrounds on or near most of our most popular creeks. The Cossatot River State Park Natural Area has small campgrounds at Ed Banks 1 and 2 and at Cossatot Falls. Long Pool Recreation Area is a great campground on the Big Piney River near Dover, but you can also camp near its headwaters in the Ozark National Forest. Autocamping is available near the headwaters in the Haw Creek Falls Recreation Area.
On the Mulberry River, the US Forest Service operates a beautiful auto campground in the Redding Recreation Area and further upriver in the Wolf Pen Recreation Area near Oark. You can also do primitive camping in the Ozark National Forest. Lake Fort Smith State Park near Mountainburg is a great home base for whitewater rafting on Frog Bayou.
The Buffalo National River has excellent campgrounds at Steel Creek Recreation Area, Tyler Bend Recreation Area, Buffalo Point Recreation Area, Rush, Ozark, Carver, Spring Creek and Kyle's Landing.
Fishing in the reservoir
In addition to the fishing already mentioned at Bull Shoals Lake, excellent fishing for largemouth bass, grouper, smallmouth bass, crappie, walleye, striped bass, white bass and hybrid white bass/striped bass is easily accessible at Beaver, Greers Ferry, Blue Mountain, Nimrod, Dardanelle , Ouachita, DeGray and Greeson.
Beaver Lake has excellent campgrounds in the Prairie Creek, Dam Site, Hickory Creek and Horseshoe Bend recreation areas. Camping is also available at Dam Site 2 on the Beaver Tailwaters, a popular trout fishing stream
At Greers Ferry Lake you can camp in the Choctaw, Cove Creek, Devils Fork, Mill Creek, Shiloh, Sugarloaf and Narrows Recreation Areas. John F. Kennedy Recreation Area provides access to world famous trout fishing at the Greers Ferry Tailwaters.
Lake Dardanelle State Park near Russellville and Spadra Park near Clarksville are comfortable and convenient gateways to one of the state's premier Bass Lakes and, through January 31, excellent duck hunting.
Camping at Lake Ouachita is available at Lake Ouachita State Park and a variety of Corps of Engineers campgrounds, primarily on the south side of the lake.
A gateway to great all-around sport fishing, DeGray Lake State Park also features a world-class lodge and golf course, as well as a full-service campground.
A smaller version of DeGray Lake, Lake Greeson has excellent camping facilities at Daisy State Park. In the winter there is a decent trout fishery in the Greeson swimming waters.
All campgrounds on these lakes have RV sites with utilities, as well as sites for auto camping. Many have pitches for tent camping. Information is available on the Army Corps of Engineers website for each lake.
Climb
Arkansas has many great climbing spots, and Sam's Throne in Newton County near Mount Judea is one of our most famous. It is a high sandstone ridge with a weathered crest. Boasting one of the longest uninterrupted walls in the state, it has more than 285 established climbs with names like House of His Healing Presence, Overpowered by Funk, and Whiff of Dead Dog.
Near Sam's Throne is the Valley of the Blind. It features 39 of the highest routes in the region. Camping is available at Sam's Throne and Richland Creek Recreation Area.