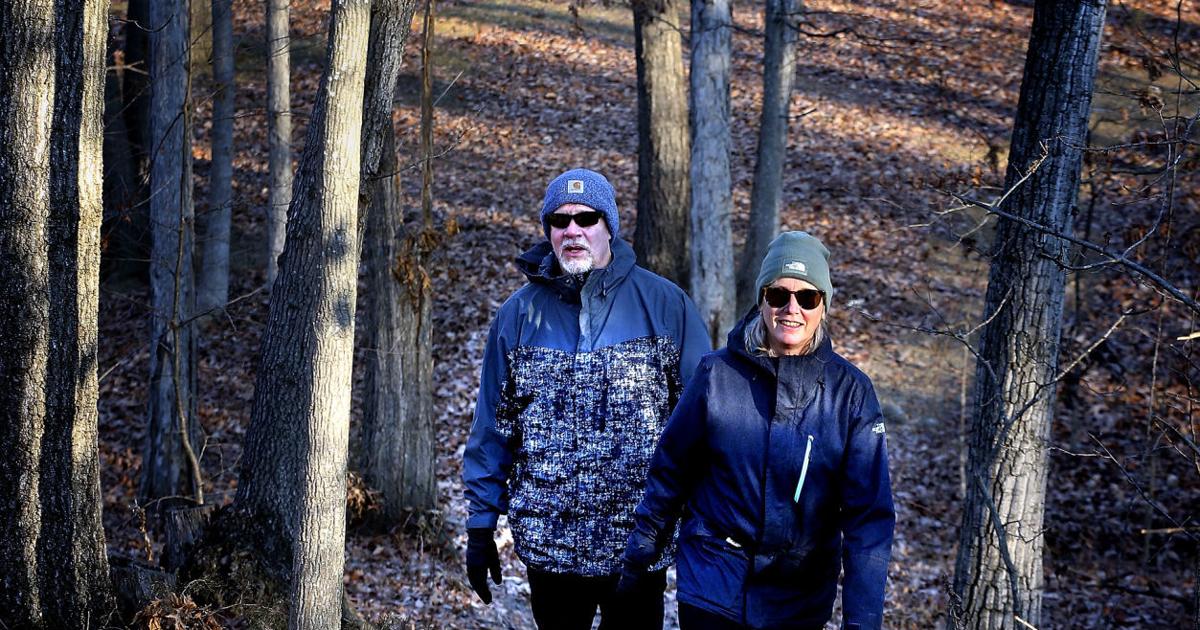 The nice thing about running or walking for exercise outdoors is that all you need is comfortable footwear, time and a little get up and go. Sidewalk systems and relatively low-trafficked roads abound in Winchester and Frederick County neighborhoods. However, if you are an avid outdoor runner, jogger, trotter or stroller there are times when you might crave something other than hard, stoplight-punctuated pavement, yet don't want to deal with the tree roots and big rocks found on many forested trails.
Fortunately, thanks to public parks, historic preservation efforts and some nonprofit groups, you can find several foot-friendly paths in or near the Northern Shenandoah Valley that hit a sweet spot somewhere between urban sidewalks and vigorous hiking trails. If you're looking to wake up your brain with a different running route or challenge your stabilizer muscles with a different running surface, consider checking out the 10 trails listed below. Each one is at least a mile or longer. There are no entrance fees and parking is free.
There are shorter asphalt paths that can be found in Winchester and Frederick County. The parts of Winchester's Green Circle that wind through Shawnee Springs Park, Abrams Creek Wetland, and along Town Run can give you bites of off-road deliciousness within the city. The half-mile flat path around the pond at Clearbrook Park is a low-key place to run or walk loops on a flat course. In contrast, the approximate one-mile paved fitness loop in Jim Barnett Park renders a hill workout.
Those convenient public paths can certainly add a little spice to your outdoor running life. But, if you are interested in something longer, softer and, perhaps off your beaten path, you have several opportunities that might be near your Winchester area neighborhood or involve a short drive.
If you like to exercise with your canine friends, keep in mind that most trail systems ask that you keep your pooch on-leash. Several localities specify leash length, so check the details before you go. In addition, the paths highlighted below are free to use, offer free parking and are open from dawn to dusk. The exception is the Chesapeake and Ohio Canal Towpath (C&O). That linear trail features campsites where you can pitch a tent.
Museum of the Shenandoah Valley in Winchester
Trail Length: The main trail that loops around the grounds is approximately 2 miles long. There are additional spurs that can be used to create interior loops on the property. If you park in one of the MSV parking lots, you can easily incorporate the portion of Winchester's Green Circle that runs adjacent to Amherst Street alongside the MSV property to create another loop and increase your mileage.
Surface Type: The main trail is asphalt with loose gravel on top. The trail spurs are soft mulch. The loop is a mix of flat stretches and gentle inclines in addition to a few more challenging hills.
What makes it special: The landscape is accentuated by sculptures and other creative outdoor art. There are green picnic mounds that resemble Teletubby hills, standing stones reminiscent of a mini-Stonehenge and interesting plantings and ponds. Look for wildlife along the way as well. Waterfowl, frogs, muskrats and more can be spotted from the wetland walkway. Birds of all types abound throughout the property. And, don't be surprised to be mooed at by some spirited cows along the fence-line.
If you drive there, you can access the MSV trails from the museum's main lot. There are several spots there where you can jump on a trail spur to access the loop. In addition, there are two trail specific parking lots. One is off Amherst Street. The beginning of the trail from that lot is uphill. If you are looking for a gentler first mile, try the other entrance from a small lot located off of Jefferson Street.
For more information: https://www.themsv.org/trails/
Clarke County's Chet Hobert Park in Berryville
Trail Length: This is a loop trail that runs approximately 2 miles.
Surface Type: The fitness trail is soft gravel. There are options to run on grass fields too.
What makes it special: There are a few parts of the loop trail that cut through stands of woods. But, a substantial portion runs alongside baseball and soccer fields. In spite of the openness of some of the areas, exercisers have seen deer, fox and other wildlife staring back at them.
The path around Chet Hobert Park is relatively flat and easy to follow. It is jogger stroller-friendly and, generally, a quiet, friendly place to get in some off-road miles.
For more information: https://www.clarkecounty.gov/government/parks-recreation/fitness-trail
Blandy Experimental Farm at the Virginia State Arboretum off U.S. 50 in Clarke County
Trail Length: The State Arboretum at Blandy features nearly 11 miles of low-traffic roads and trails on the site. If you are walking, there are several trails inside the arboretum boundaries to investigate. If you are running, Blandy's gravel roads combine well with paved roads on the park's perimeter to increase mileage without over-complicating things. Just be aware of traffic, be visible and yield to vehicles if needed.
Surface Type: Most runners and walkers exercise on the gravel roads. Parts of the road can feel springy after a rain. Other portions have chunkier gravel. There are grassy trails on the property as well.
What makes it special: Don't be surprised to come upon horseback riders if you go out to Blandy. In addition to walkers, runners and bikers, equestrians frequent the spot. There are ample deer and other wildlife. Different times of year bring different surprises. Wildflowers abound in warmer months. Birds of all types frequent the site and you might just happen upon bird watchers who also love the area. Of course there are many interesting species of trees too. It is an arboretum, after all.
If you go and you have never been before, check a map to plot out your run. It is difficult to get turned around at Blandy. However, if you're not paying attention, getting lost is not impossible, especially if you venture out on nearby country roads.
For more information: https://blandy.virginia.edu/content/maps-brochures
Third Battle of Winchester Trails in Frederick County off Va. 7
Shenandoah Valley National Battlefields Historic District
Trail Length: Third Battle, as the runners call it, features 6 miles of trails that are divvied into loops and out and back spurs that are between 2.25 and 2.5 miles long.
Surface Type: You can stick to the main gravel paths for exercise on foot or go off the main path to explore grass and dirt trails.
What makes it special: From a running standpoint, Third Battle has a decent mix of hills and flats to challenge all of your muscles. From a scenery standpoint, the contrast between the grassy areas, the cedar grove, the woods and the Red Bud Run Crossing is refreshing. And, from a preservation standpoint, one can get lost in the history of the site.
If you are new to Third Battle, there are three ways to enter the site. One is at the parking lot at Millbrook High school and another is at the parking lot and Visitor's Center at 541 Redbud Road. You can check out the posted maps and plot your course. There is a third entrance at 170 Getty Land near Marriot Towne Suites.
For more information: https://www.battlefields.org/learn/maps/third-winchester-battlefield-trails-map
Rose Hill Park on Jones Road in Frederick County
Trail Length: The path at Rose Hill Park is a 1.2-mile loop. There are a few shorter spurs and connectors you can add.
Surface Type: The main loop is gravel. There are spurs that are dirt/mud.
What makes it special: Rose Hill Park is a partnership between Frederick County and the Museum of the Shenandoah Valley. It is conveniently located for people who live near or in Winchester. It's a stone's throw from Cedar Creek Grade on Jones Road. The trail has some gentle inclines and one challenging short hill. It includes field views of the MSV's Rosehill Farm and the surrounding woods. For history buffs, the signage provides insight into the final Battle of Kernstown. For outdoor enthusiasts, the mix of farm views and woods provides a respite from city sidewalks.
For more information: https://www.fcva.us/departments/parks-recreation/parks/rose-hill-park
Kernstown Battlefield, Valley Pike/U.S. 11 South in Winchester
Trail Length: There are multiple paths mowed through grass fields at Kernstown Battlefield. You can craft a 5k or more out of the various stretches and loops, while incorporating the paved drive and gravel roads along the way.
Surface Type: The mowed trails are grass. They abut stretches of woods and circle fields.
What makes it special: Kernstown Battlefield is a popular place to scratch your cross-country itch. Indeed, the Kernstown Battlefield is the site of some cross country races. But, there is more to the site than just an opportunity to exercise your muscles. Your mind can go to work here too. There are historic markers, a visitor's center, old farm buildings and a canon on site among the old homestead buildings.
If Kernstown Battlefield calls to you, please note that it is closes in October for the winter and reopens in May. Visitors are welcome on weekends spring through fall.
For more information: http://www.kernstownbattle.org/
Sherando Park in Stephens City
Trail Length: There are 5 miles of trails in Sherando Park if you combine them all. Many exercisers mix and match trails, soccer field perimeters and roadways to come up with cohesive, interesting runs around Sherando Park.
Surface Type: Exercisers can find a mix of surfaces to run on in and around Sherando Park. There are wooded paths, grass fields and an asphalt trail.
What makes it special: If you want flat, there are fast, flat areas in Sherando Park where you can run all out, work on speed and surprise yourself with a personal record. If you like hills, there are hills covered with grass, dirt and pavement. If you want a mixed surface run, you can run on the grass, hop on a trail through the woods and come out on more smooth pavement. Another upside to the trails at Sherando Park is that several paths connect to neighborhoods with quiet roads so that you can literally go the extra mile.
For more information: https://www.fcva.us/departments/parks-recreation/parks/sherando-park
Route 9 Trail Martinsburg to Charles Town, West Virginia
Trail Length: The Route 9 Trail is 10.5 miles linear trail.
Surface Type: From parking lot to parking lot, the entire path is asphalt.
What makes it special: One end of this trail, when you are coming from the Charles Town, West Virginia, side, is fairly flat. The other end is a hill lover's dream. That's a nice way of saying that it is up and down and up and down and…where is the end of this awesome…ummm…training opportunity? That being said it is a friendly trail. People say hello. And, you might even spot some wild turkeys and other wildlife along the way.
Another exciting bit about this path is that plans are underway to extend it into downtown Martinsburg. Currently you can access the path from its terminus at Grapevine Road outside of Martinsburg, or from the other end at Currie Road in Ranson/Charles Town.
If you go, be aware that there are a few places where the path crosses busy roadways and one spot where you must ride along the roadway for several hundred feet to access the continuation of the trail.
For more information: https://www.traillink.com/trail/wv-route-9-bike-path/
W&OD Trail
Trail Length: The Washington and Old Dominion Trail is 45 miles starting in Purcellville and finishing in Shirlington.
Surface Type: The W&O is mostly known as a smooth asphalt path that is popular with recreational runners and bikers as well as commuters. But, some might say it offers the best of both worlds for runners. Alongside the asphalt is a soft dirt trail that can be accessed on foot or on horseback.
What makes it special: The trail can be accessed by numerous points along the way. So, check out the details before you head there. Parking is free near access points. The option to run on soft dirt surfaces in addition to speeding things up on asphalt make this an appealing destination. The rolling terrain is challenging, but not overly so.
While there are long stretches of the W&OD where runners and walkers can zone out a bit, this is a commuter path for many bikers who like to keep moving. Activity can be heavy and fast at times. In addition, there are portions of the path that cross busy roads.
For more information: https://www.novaparks.com/parks/washington-and-old-dominion-railroad-regional-park
Chesapeake and Ohio Canal (C&O) Linear National Park
Trail Length: The C&O follows the Potomac 184.5 miles from DC (Georgetown) to Cumberland, Md.
Surface Type: The length of the C&O is almost entirely gravel.
What makes it special: If you live in the area and have never contemplated the enormity of a little project called the C&O, it is time to explore some of the path on foot. It is rife with history and the architectural ruins of a long gone lifestyle.
From a wildlife standpoint, don't be surprised to see cranes, turtles, snakes, deer and other creatures. In the spring, the sound of peepers can be deafening along some stints of the path. There are endless fields of Virginia bluebells along other stretches. There are rock walls, caves and the infamous Paw Paw Tunnel. No matter the season, the otherwise flat path can be an exciting, stimulating place.
From the Winchester area, it is easily accessed in Harpers Ferry, Shepherdstown and Paw Paw, West Virginia. Williamsport and Hancock, Maryland, are also good access hubs. (If you go to Hancock, you will notice that the C&O runs alongside the 28-mile long Western Maryland Rail Trail. That is an asphalt trail that is particularly popular with bikers, but hosts its share of pedestrians too.)
For more information: https://www.nps.gov/choh/index.htm