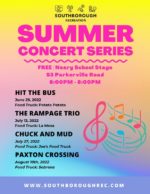 It's time to mark the dates for this summer's concert and film series. The outdoor fun is hosted by Southborough Recreation.
Free entertainment will be available every Wednesday night from June 29th to August 17th thanks to a rotating schedule. Both series take place on fields at Neary School, 53 Parkerville Road.
The concert series starts in a week's time tonight. Concerts take place on the open-air stage near the tennis courts from 6:00 p.m. to 8:00 p.m.
Concert-goers are encouraged to bring blankets or chairs and enjoy a picnic. Bring your own dinner or buy one from the food truck that evening.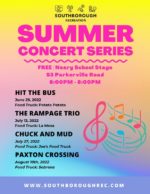 Here is the lineup:
June 29 – Beat the bus (Food sold by Potato Potato)
July 13 – The Rampage Trio (Food sold by La Mesa)
July 27th – Chuck and Mud (Food sold by Joe's Food Truck)
Aug 10 – Paxton Junction (Food sold by Sabrosa)
During the other weeks films are shown on the big screen at Depietri Field in front of the school car park. An ice cream truck will add to the festivities.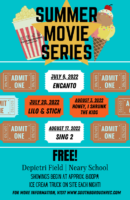 The approximate screening time is 8:00 p.m. As usual, the film program is clearly aimed at families with small children:
July 6 – charm
20th of July – Lilo & Stitch
3rd August – Honey, I shrunk the kids
Aug 17 – singing 2