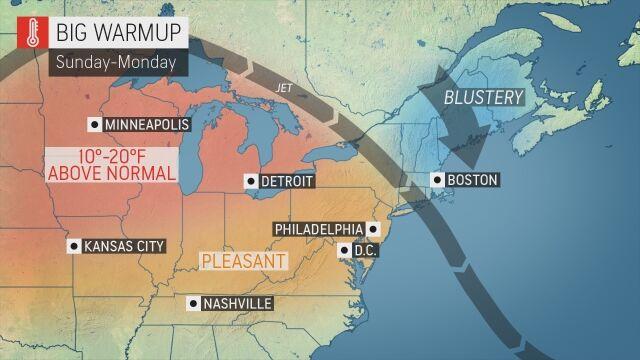 TODAY: Cloudy and not so cold; a quick shower or restlessness possible late. Low: 36
SUNDAY: Mild with clouds giving way to a mostly sunny afternoon. High: 61
SUNDAY NIGHT: Sure. Low: 40
BIG PICTURE
Our holiday weekend started out cold for sure, as the lows dropped on Saturday morning thanks to clear skies, much lighter winds and an unusually cool air mass in the last few days into the 20s. Fortunately, there were hardly any clouds in sight that day, with much lighter winds and afternoon highs going back to the low 50s. Yes, this is still a little below normal for this time of year, but it was a good 10 degrees warmer than Friday. As we progress through the rest of the vacation weekend, our warming trend will continue, with 60-degree highs becoming more common on Easter Sunday. The forecast also seems to remain largely dry, likely through the first half of next week, with constant highs in the low 60s Sunday through Tuesday and little chance for a bit of late night sprinkles or excitement and perhaps a late shower Tuesday through early Wednesday. Wednesday through Thursday highs are expected to warm a little more, with the mid-1960s expected.
FORECAST DETAILS
THIS EVENING
A weak upper level perturbation will approach our north tonight and increase the clouds. A sprinkle or agitation from this disorder overnight is also out of the question, particularly in the Poconos and far northwestern part of New Jersey, but the vast majority of the area should be kept dry. The night lows won't be as cold as they were the last couple of nights thanks to the increasing clouds. The numbers should only fall in the mid to upper 30s.
EASTER SUNDAY
By the time that mild disturbance is over tonight, some early morning clouds should give way to abundant sunshine on Easter Sunday afternoon and warmer temperatures will likely come. Expect highs well into the low 60's which makes for a great vacation overall!
MONDAY TO WEDNESDAY
Expect a mix of clouds and sunshine on both Monday and Tuesday which look mostly dry at this point and still quite mild for this time of year, with highs in the low 60s. One or two showers are possible late Tuesday through early Wednesday as a warm front is slowly approaching the area in our west. Apart from this chance of an early shower on Wednesday, you can expect a cloudy start to the day thanks to the warm front in our west. During the afternoon, these clouds should break for a little sunshine. The highs are expected to reach mild levels in the mid-1960s.
THURSDAY
The weak front in our west from late Tuesday to Wednesday appears to be falling apart for Thursday at this point, allowing a short, high pressure bubble to return. This, in turn, should result in a dry day with intervals of clouds and sun. The highs should also remain fairly mild, as seen on Wednesday in the middle and even into the top 60s.