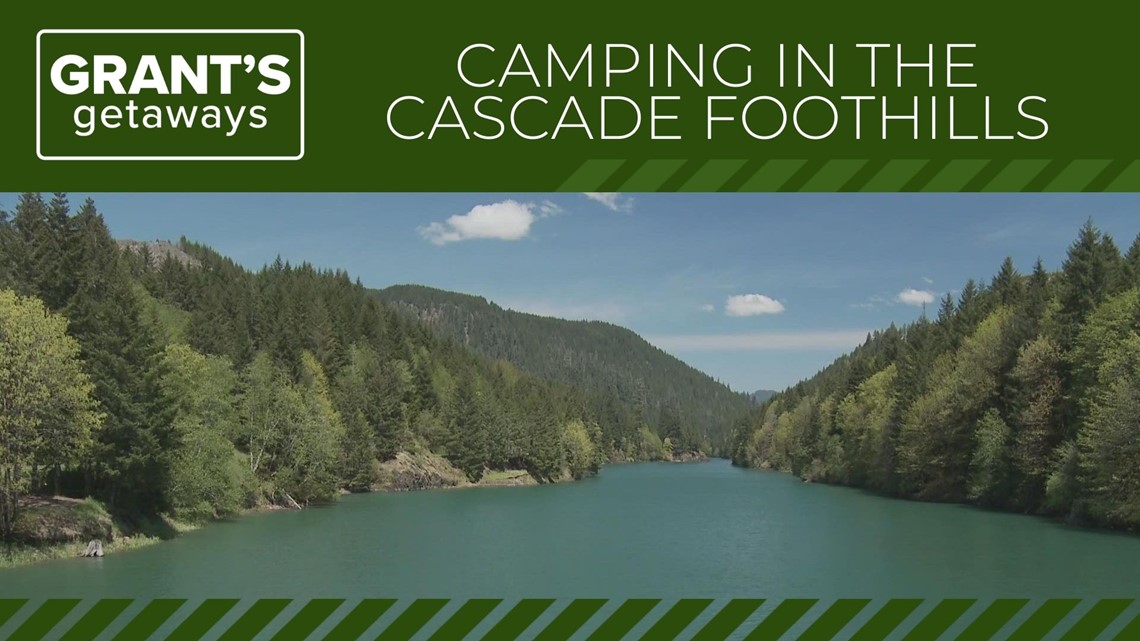 Grant McOmie visited Green Peter Lake in Linn County for a fishing and camping trip.
LINN COUNTY, OREGON – Oregon offers so many reasons to hit the road, where the pavement often curves to reveal the state's scenic mysteries.
It's the unexpected surprises along the way that I enjoy the most—and so it is for a destination that offers camping, fishing, and a backcountry backroad on Green Peter Lake.
In the broad-shouldered Willamette Valley, sample the splendor of summer from a unique vantage point beneath Linn County's many covered bridges.
Perhaps visit the Oregon Department of Fish and Wildlife's Roaring River Hatchery, where you can also learn more.
"People are definitely coming out to look at the fish," said Tim Shambers of the Oregon Department of Fish and Wildlife. "While you're here, we're trying to show you something that will increase your knowledge of what's going on in a hatchery. It's also a nice place to sit, relax and enjoy an afternoon."
When you get close to Sweet Home, you quickly realize that this Oregon county is huge, gigantic, and sprawling.
"People look at the beautiful Willamette Valley, farmland and all and think that's all we have – but the truth is more than half of Linn County is forested," said Brian Carroll of Linn County's Parks. "People are usually surprised when they learn that the Willamette National Forest makes up a large part of the county."
It's a county that cries out for closer inspection, and soon you'll discover a slice of leisurely heaven at Green Peter Lake, where boating and camping adventures are easy to find.
"It's remote yet close," remarked Carroll. "We have one of the largest bodies of water in the state of Oregon and it's kind of hidden."
At 3,700 acres, Green Peter Lake is home to boating, swimming, water skiing and most importantly fishing.
Fisherman Kent Cannon said anglers come from all over to try their hand at trolling for trout, or especially kokanee, inland sockeye salmon, which are a huge draw for veteran anglers.
Cannon uses an electronic fish finder chart as well as electric downriggers to reach the lively fish that can swim to 100 feet deep.
His favorite bait comes straight out of the kitchen cupboard and is called shoecorn.
"It's the sweetness of the corn that they like," noted Carroll. "Also, the shoepeg style has long cores, so they're easier and tighter to put on a hook."
According to retired state fish biologist Steve Mamoyac, the Oregon Department of Fish and Wildlife manages Green Peter Lake for kokanee and trout.
"We stock about 50,000 catchable rainbow trout each year," Mamoyac noted. "We stock about 50,000 Kokanee pups to increase natural production in the tank as well."
Nearby Whitcomb Creek County Park is perfect for anglers wanting a multi-day stay. It has two boat ramps near a campsite that offers 39 spacious pitches for tents or caravans.
Although the pitches do not have water or electricity connections, they offer plenty of freedom of movement to stretch out in a pleasant, wooded setting.
"You can come here to find that special outdoor experience that isn't as crowded as other places," Carroll said.
The road calls you back to a western approach to the Cascades, where Douglas fir and western hemlock trees flank a route called the Quartzville Backcountry Byway.
The Quartzville Byway meanders past Green Peter Lake along the clear, cool waters of Quartzville Creek; designated as a National Wild and Scenic River.
It's an amazing corridor of old growth forest accented by rocky outcrops and wildflowers. Some of the giant trees are 450 years old and over 200 feet tall.
All in all, the scenery, the fishing and the location – so close to the Willamette Valley – make for a fabulous getaway that is very close to home.
Once visited, you will return very soon.
Follow my Oregon adventures on the Grant's Getaways podcast. Each segment is a storytelling session in which I share behind-the-scenes stories from four decades of travel and television coverage.
You can also learn about many of my favorite Oregon trips and adventures in the Grant's Getaways book series, including:
Grants Getaways I, photography by Steve Terrill
Grant's Getaways II, photography by Steve Terrill
Grant's Getaways: 101 Oregon Adventures, photography by Jeff Kastner
Grant's Getaways: Guide to Wildlife Watching in Oregon, photograph by Jeff Kastner
Grant's Getaways: Oregon Adventures with the Kids, photography by Jeff Kastner
Featuring hundreds of outdoor activities throughout Oregon, the collection promises to delight a kid of all ages.