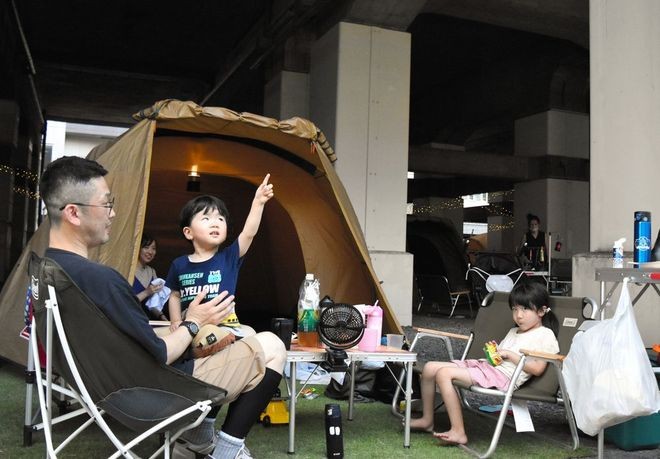 When it comes to camping, Tokyo's bustling electronics district, Akihabara, is pretty much the last place anyone looking to get away from it all and get back to nature would choose.
But in late August, amid trains making clattering noises, a spot under a line operated by the East Japan Railway Co. in Akihabara was packed with tents.
The limited-time "Travel Training Campground" was developed by JR East Urban Development Corp. based in the capital's Shibuya district, was set up between August 13 and 24 to allow visitors to try out camping.
About 400 individuals from 160 groups, mostly families, came there over the 12 days.
Tents, tables, gas cookers and all other camping equipment could be rented on site. The facility staff demonstrated how to set up tents.
While visitors could stay overnight if they wished, a package was also available allowing people to spend time outdoors during the day only for a casual taste of camping.
A 44-year-old woman from a family of four in Tokyo's Minato Ward stayed there for one night.
"I was hesitant to go camping because there isn't enough space at home to store the camping gear I bought," she said, happy with the offer. "Putting up a tent was easier than expected, so I will consider buying a tent myself."
The program was among new business candidates weighed by JR East Urban Development to take full advantage of under-track real estate.
Aya Kitada, 39, who proposed the project, explained its appeal.
"Surprisingly, pitching tents is difficult for those who have never camped," Kitada said. "I thought there was a need for a place to try camping near an easily accessible train station in central Tokyo."
The latest service has been offered on a trial basis and is reportedly being studied to commercialize it.
Along with JR East Urban Development, other similar services were offered to novice campers.
Camping is becoming increasingly popular as the leisure activity can be enjoyed in an uncrowded environment during the novel coronavirus crisis.
An industry organization estimates that more people have started visiting campsites and new offers are helping to spread this trend.
RENTAL OF VANS, EQUIPMENT
Alpine Electronics Marketing Inc. of Ota Ward in the capital, a subsidiary of Alps Alpine Co. that sells car navigation systems and other in-car goods, launched the Storyca van and camping equipment rental program last September.
Many households today do not own a car or are opting for compact vehicles that are easier to drive. Going camping is difficult for these families as it means they have to travel long distances while transporting a large amount of gear and other necessities.
Obtaining all the necessary items costs a lot and takes up a lot of space, which is an additional hurdle for beginners to start camping.
In Storyca's family-oriented package, a minivan that can be loaded with a large amount of goods can be rented along with camping equipment for a total value of 770,000 yen ($5,300).
All users must return the van with the rented items after camping, so dishwashing and other cleaning work is not required.
The price depends on the rental period, and according to Alpine Electronics Marketing, a two-day, one-night trip can be booked at a cost of tens of thousands of yen.
The offer is available at three locations in Yokohama, Osaka Prefecture and Nagoya. According to the company, the number of users is increasing every month.
"We will be opening more local locations in the future," said a representative from Alpine Electronics Marketing.
Hiroaki Sakai, secretary-general of the Japan Auto Camping Federation, which is made up of campers and campground operators, said that around 2010, camping started attracting public attention on social media and YouTube.
The growing domestic camper population is estimated to have reached 8.6 million in 2019. Though the number fell to 6.1 million in 2020 as campgrounds suspended operations due to the COVID-19 pandemic, the number rose again last year to 7.5 million.
In 2018, beginners made up 16.8 percent, and in 2020 the proportion rose to 25.9 percent. In 2021, too, the rate was 24.4 percent.
"Among the growing popularity (of camping), more and more companies are targeting beginners," Sakai said. "The trend will continue to pick up speed from now on."