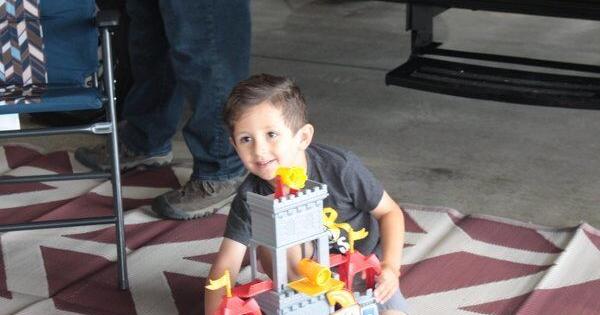 While Brody Hammack received daily treatment at Cincinnati Children's Hospital, he and his parents stayed in his grandfather's RV.
It was then that Laurel Aboriginal, now 5, fell in love with the idea of ​​camping – he wanted his own RV to spend time with his parents and family.
Hammack was diagnosed with Acute Lymphoblastic Leukemia when he was just 2 years old – leading to intensive treatment that has shaped the lives of his family for almost 3 years.
"Doctors thought it was viral at first," his mother, Lori, explained. "They did some blood tests and found he had low hemoglobin. We had to go to Children's Hospital in Cincinnati and stay in the area for 10 days and 8 weeks. My father-in-law had an RV and we stayed in it. Brody loved it and said he wanted one!"
During this time, Brody's name was submitted to the Make A Wish Foundation to grant his wish – an RV for family time and a source of joy for the young child.
His wish came true on Saturday morning when representatives from the Make A Wish Foundation arrived at the London site through a partnership with Camping World to grant Brody's wish.
"We've been working on his request for a few months," said Faith Hacker, senior advancement officer for the Ohio, Kentucky, Indiana office, which is headquartered in Lexington. "We have a partnership with Camping World. When they bought this dealership in February, we started working with them to make the wish come true."
Terry Spurlock, general manager of Camping World of London, said the Dutchman Coleman camper is valued at between $18,000 and $19,000 and is geared towards the needs of the Hammack family.
The layout of this model offers a seating area directly behind the front door with a 2-burner stove, microwave, fridge and freezer on one side and a table with bench seat on the other side. The table, Spurlock said, can be adjusted to create additional sleeping space, while the rear of the RV houses a small bathroom with a shower and two sets of bunk beds. An additional feature of the RV is an electric fireplace that displays flames even when not on.
"The fireplace is an attraction, but it also doubles as an additional source of heat when needed," Spurlock said. "For example, if you run out of propane, you can plug in the fireplace and heat it electrically."
Spurlock said the partnership between the Make A Wish Foundation and Camping World is a win-win for both organizations.
"We try to make dreams come true, whether it's a sick child or a family that needs a camper to enjoy their time together," he explained. "When we found out about Brody, we found a model that would fit his family."
Alongside the camper, Spurlock said he bought some toys for Brody — a full set of Paw Patrol vehicles and figures, and a fire station. Camping World also added a BBQ for the family to use on their next trip.
With Brody now in remission, his parents, Jason and Lori Hammack, are planning some camping trips in the near future.
"We plan to camp at Laurel Lake in September and probably at Levi Jackson Park this summer," she said. "We also plan to go to Pigeon Forge later. I am so grateful to Make A Wish and Camping World for helping Brody make his wish come true."