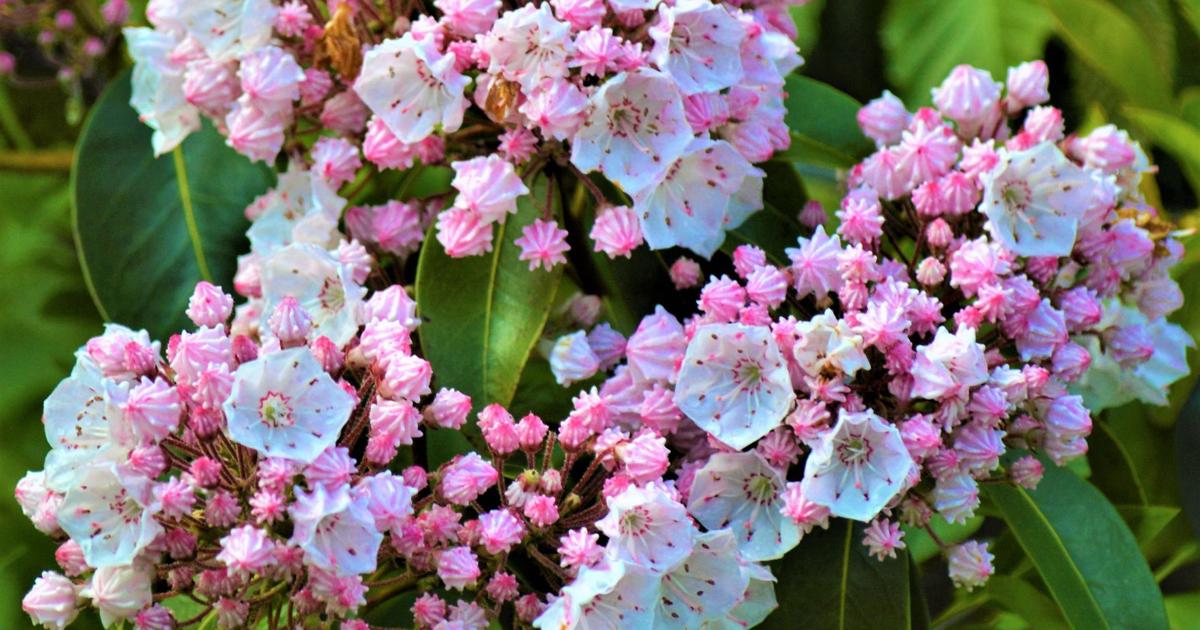 It was our first camping trip this year. It was actually our first camping trip in the last two years. We didn't get out at all last year because we were busy helping our daughter set up her family in her new home. They had just returned from North Carolina, but now they're all settled, and these mountains that have been calling us for two years will soon have our answer…
Our destination for five days and nights was the Red Oak Loop in Prince Gallitzin State Park. All weekends were fully booked (as usual) so we had to settle for a Monday to Saturday stay for the three of us (me, Brenda and Moses – our soon to be four year old Bernese Mountain Dog). This particular Monday was not only Memorial Day but also my wife's birthday so this trip was extra special. We celebrated her birthday with the family the day before so this would be a day for both of us to enjoy – once the set up work was complete.
The weather for the week should be hot and muggy for the first 3 days, then a rainy day and then cooler, more seasonal weather to finish off the week.
At this point (early June) the trees are fully green with numerous wildflowers to enhance the late spring aroma of the woods – a lovely time of year to spend a few days at our Creator's best.
We had a birthday dinner of steaks over the campfire on the first night followed by s'mores for dessert. Could it possibly get any better? I don't think I've ever enjoyed a tastier steak. We were both tired from all the setup work and retired early to a (thankfully) air-conditioned camper. The first day was in the books and we officially camped again.
We didn't really have much planned for this trip other than catching up on some R&R&R (rest, relaxation and reading). As it turns out, Moses loves communicating with nature just as much as we do. We brought a bed that we had arranged for him that would allow him to get up off the floor. But there was no way he would climb onto this contraption! He preferred grass, leaves, dirt and gravel – which he gathered in abundance in his coat! He looked like a junkyard dog for most of the ride – but he couldn't have cared less!
We broke out the cards for a couple of evenings from 1500 on the picnic table and, much to Brenda's chagrin; my lucky streak was still intact. I finally let her win a game just to make her happy!
On Wednesday we were blessed with a visit from my daughter Hilary and our grandchildren Ryan (4) and Anna (2). They love camping and we loved watching them enjoy it. We had promised them s'mores and they finally got a chance to try them. Graham crackers, peanut butter, chocolate and marshmallows – what's not to like? However, Ryan was a bit overwhelmed as the marshmallows we had were giant square ones instead of the regular sized round ones. They were so big they dwarfed the graham crackers and chocolate, and were spilled with gooey, gooey marshmallows on all sides. Well, that sounded good to me, but apparently Ryan doesn't like being sticky and he refused to even try to eat it! We ended up cutting a smaller marshmallow and making one for him and he was fine. Anna had no problem with that though – the messier the better as far as she was concerned! They stayed with us in the camper and we had a hearty breakfast and s'more s'mores the next day before they left.
The predicted rain came and went, thankfully without some of the possible winds and thunderstorms they thought we might get. I love a good thunderstorm, but NOT when we're camping. We've been through some that were pretty destructive! But the rest of the week was cooler and almost chilly in the evenings – which brought me no complaints.
We had very few wildlife sightings other than the squirrels and chippies that are always around campgrounds. On our evening rides we saw no deer at all on the campsite and very few in the surrounding fields. But that's to be expected as it's crawl time now and most females will keep their young well-attended until they get a little bigger. On one of our trips we saw a lonely turkey in a field, but it quickly got lost in the tall grass nearby. Then we saw it again along the same road and it quickly went back into the undergrowth. I assume she had children around and her reluctance to leave them would explain why she stayed in the area for so long.
Camping has been an integral part of our family almost from the beginning. We started in a tent with a 1 year old and progressed to a pop up and then a stand alone tent (which we used for 25 years). Our family grew to 3 children and then dwindled back to Brenda and I as the children grew and eventually "fly out of the stable". But we enjoyed camping everywhere. I like to think that because of our many family trips on camping trips, the kids have grown to some degree physically, mentally, and emotionally. I know Brenda and I knew her; and I can't think of a better environment in which to raise your children than being immersed in nature without all the comforts that spoil us at home.
Certainly we have endured some hardships, but hopefully as we have dealt with it and put it behind us, our children have grown and matured as much as we have. I love the outdoors that our Lord has blessed us with and I hope our kids have learned to love and appreciate nature as much as we do through our camping trips. And I suspect that our many camping trips may have accomplished that goal and provided them with a comfortable childhood.
Hopefully the mountains are calling out to them like they did to Brenda and me.