As summer draws to a close and whispers of fall fill the air, unpack and sort through the upcoming season's gear in preparation for the cooler months ahead. After sorting through tents, down jackets, hiking boots and headlamps, you might find that you've picked up a duplicate on a whim since last fall, or maybe you've found an upgrade that you'd rather be using this season. Whatever the reason for excess outdoor gear, there is a useful and pragmatic solution to decluttering your gear closet and helping someone else in need: donate your gently used outdoor gear.
Thanks to the internet, the outdoor community is now more connected than ever – and with that connection comes more opportunities to donate gear to a greater variety of enthusiasts who either don't have access to merchandise or can't afford brand new options.
Should I donate my used equipment?
As long as it's in usable condition, donating your gently used outdoor gear is a sustainable, easy and beneficial way to give unwanted or unused products a new lease of life. You can sell your outdoor gear, sure, but donations help children and adults in need and can inspire more people to get outdoors by removing price as a barrier to entry.
Recycling vs. donating used outdoor gear
There's a difference between donating and recycling outdoor gear: donating gear means giving it to another person or organization that will reuse your obsolete items and give them a second life. Recycling equipment means handing it over to an authorized center that processes old items into raw materials that are reintegrated into the product life cycle.
There is some used outdoor equipment that should not be given away: old climbing ropes, for example, pose a safety risk and should not be used for any other purpose, but taken to a recycling center. A lot of outdoor gear can be recycled, however: programs like Nike's Reuse-a-Shoe and Nike Grind programs, Earth911 Recycling Search, and Green Guru's Recycling Program, among others, are working to recycle trail running shoes, wetsuits, tents, outdoor apparel, and Recycle shoes for future use.
Here are some of the best programs for donating used outdoor gear, along with some handy tips and tricks for preparing and shipping your goods.
Donation programs for used equipment
outside for everyone
outside for everyone
Founded in 1979, Outdoors for All's mission is to "improve the quality of life of children and adults with disabilities through outdoor recreation." You can support this mission by joining the Gear Up, Give Back program powered by Outside Online and Gear Fix. This is how it works:
Visit Outside's website where you can print a free shipping label. Then send your products to Gear Fix who will clean them, do all the repair work and send them to people who will give the products a second life. Cairn and Gear Fix will match net proceeds and donate the money to Outdoors for All to do even more good for the outdoor community.
LEARN MORE
Walk forward
Walk forward
The sole mission of this nonprofit organization is to equip the next generation of outdoor explorers by providing kids and young adults with the necessary gear to get outside. You can ship your used gear directly to the organization's headquarters by filling out this form, or if you want to save on shipping, you can use Gear Forward State's network of Facebook groups to make a local gear donation to a nonprofit in the to coordinate proximity.
DONATE NOW
Teens to Trails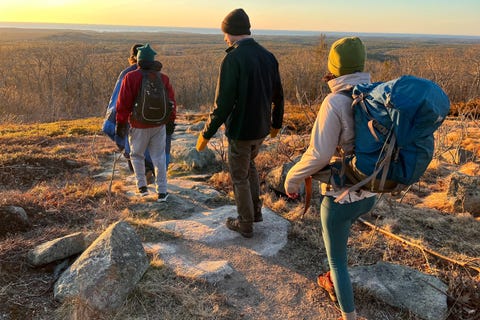 Teens to Trails
Teens to Trails connects young adults in Maine with the outdoors and works with schools and students to create meaningful experiences in nature. The program provides training, financial aid, and resources for adults and student leaders, and offers everything from scholarships to outdoor classrooms. Teens to Trails needs items like outdoor clothing and backpacking and camping gear: If you have extra you can fill out the donation form, schedule a pickup/drop-off in the Maine area, or coordinate a shipping label to ship your lightly used items in.
learn more
REI Co-op trade-in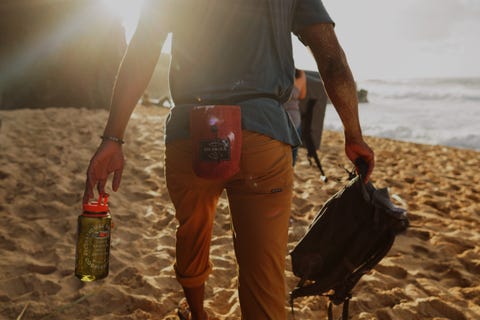 REI
REI has developed a program for its members to trade in used equipment for a REI gift card loaded with funds from the donation. The process is simple: search for your item in the company's trade-in database. If it is eligible for trade-in, the amount you will receive as a credit will be listed. You can either ship your goods for $6 or take eligible equipment to your local REI.
learn more
Bound away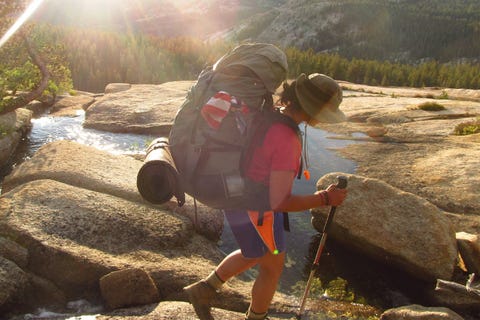 Bound away
Help support Bay Area youth by donating gently used or new equipment through Outward Bound California, a non-profit organization dedicated to the education of students and adults. You can help outfit Bay Area youth from Outward Bound's partner schools and nonprofits with the outdoor gear they need for Outward Bound field trips.
learn more
How to prepare equipment for donation
Clean it up
Wash all clothing, sleeping bags, and soft goods before packing them for shipment. Also, dust shoes, tents, and hardware before shipping.
Make sure it works
Tears, zipper malfunctions and stains can all be repaired, but when your outdoor gear is beyond repair or salvage, consider going the recycling route rather than donating.
Pack it right
Before shipping, make sure the container you are shipping outdoor gear in is sturdy and tightly closed and the shipping address is clearly printed. Many donation programs have pre-printed labels for shipping, but if they don't, consider getting a tracking number for your package to ensure it gets to its final destination.
This story only touches the surface of the outdoor gear donation and recycling programs available. If you have another organization, nonprofit, or method of reusing outdoor gear, please let us know in the comments below.