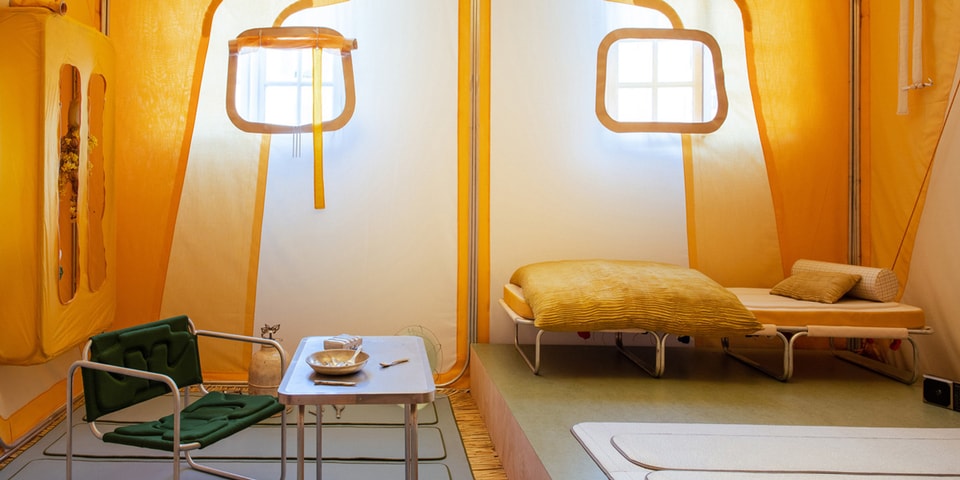 The designer Madeleine Oltra and the architect Angelo de Taisne looked back to the summer of the 1970s for their new joint project "Sardine Sardine". Paying homage to campers pitching their tents in the south of France at the time, both the installation and the pieces inside take their visual cues from the gear commonly associated with backpacking.
The duo was also conceptually shaped by this type of travel, as both have been backpacking and camping since they were young. "The limitations associated with camping, such as transport and lightness, are a great source of inspiration for this project, as they lead to inventions that take everyday objects out of their original formats," say the designers.
Elsewhere, the stories of Jo and Roger Tourte in the 1947 book À pied autour du monde: trois ans de camping provided a conceptual springboard. "Sardine Sardine tells the story of two campers who have piled up in this big, warm tent all sorts of objects that have experienced several trips before them and others that they have imagined for their pleasure and comfort," they add.
Inside the orange canopy, objects are laid out as if left behind by previous visitors. The archetypal shapes are contrasted with luxurious materials and handcrafted details. For example, a single bed features a hand-dyed silk duvet with a texture reminiscent of a sleeping bag, with its lustrous, crinkled material mirroring that of the well-known sleeping bag. Collaboration was at the heart of the project and the pair worked with a nautical upholsterer to create the tent canvas. locksmith for the tent structure and furniture; carpenters for the wooden platforms in the tent; Pads for textile elements; and glassblowers for the portable lamps.
The installation was recently announced as the grand prize winner of the Design Parade Toulon festival in France, where it will be on display until October 30, 2022.
In other design news, we spoke to the founders of Galerie Vaspaar about their mission to modernize collecting.
Former Diocese
69 Cours Lafayette
83000 Toulon, France