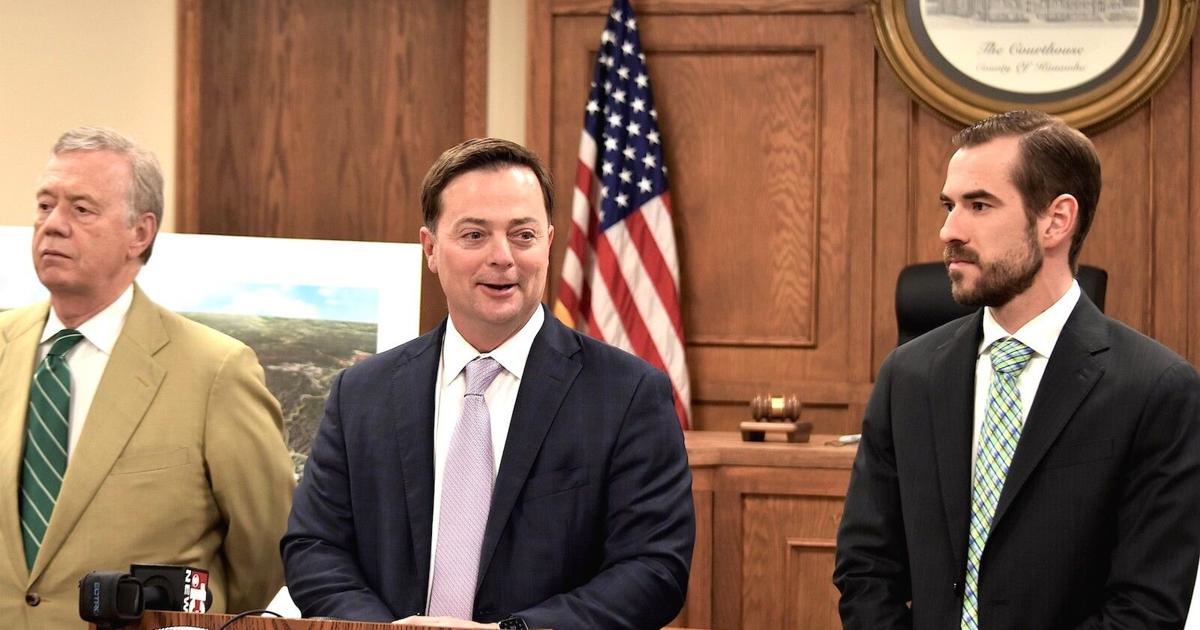 CHARLESTON — The luck of the Irish may have smiled a little over the Upper Kanawha Valley on St. Patrick's Day Thursday.
But the toil and sweat of many over the past few years also contributed to some good news for the region from financial benefactors.
The Kanawha County Commission announced Thursday that it has received a $675,210 POWER grant from the Appalachian Regional Commission. ARC POWER scholarship awards result from a highly competitive application process.
In a press release earlier Thursday, the ARC announced it has awarded nearly $21 million to 21 projects impacting 211 counties under the POWER (Partnerships for Opportunity and Workforce and Economic Revitalization) initiative, which draws federal funds to Targeting communities affected by job losses in coal mining, coal power plants and coal-related supply industries.
ARC Federal Co-Chair Gayle Manchin announced the awards at a roundtable event in Youngstown, Ohio to discuss strategies and new opportunities to foster industry growth in coal-affected communities.
"We are very pleased to award this new round of funding for coal-affected communities in Appalachia," said Manchin. "The partnerships forged through POWER projects are helping transform economies across county and state lines to help build a more resilient, thriving Appalachia. When Appalachian coal-affected communities thrive, the rest of our country will be strengthened."
In a Kanawha County press release Thursday, Manchin said, "I congratulate the Kanawha County Commission on their work in expanding and creating new businesses that will support an active outdoor recreation economy in West Virginia. Partners like the Kanawha County Commission play an important role in making our POWER projects a reality, and I look forward to seeing our Appalachia region continue to grow through the impact of their work."
The ARC grant is complemented by funding from the Claude Worthington Benedum Foundation ($319,000) and the Kanawha County Commission ($225,000) to bring the total allocation to just over $1.2 million to support engineering and design efforts Fund to Preserve Upper Kanawha Valley Outdoor Recovery Plan Initiated.
In 2021, the Kanawha County Commission completed a comprehensive development strategy and master plan for outdoor recreation that encompasses a 30-mile stretch east of Charleston on both sides of the Kanawha River. The plan was prepared by Civil and Environmental Consultants Inc. Visit www.kanawha.us for more information.
The ambitious plan includes many facets, including campgrounds, hiking trails, ATV trails, river access points, and other tourism-related businesses.
The ARC grant will support proposed projects such as trail design and development, improved access to recreational rivers, small business growth and the opening of the Hatfield-McCoy trail system in Kanawha County.
Thanking the ARC and Manchin as well as the Benedum Foundation, Ben Salango, Kanawha District Commissioner, said, citing the downturn in the coal industry and other factors, "The upper Kanawha Valley has taken a hit in recent years." It's an important step" in reviving UKV, he said. Salango noted that earlier in the day he had said: "All these great ideas, these great plans, they sit on a shelf and gather dust until you get funding. Sometimes it's better to be lucky than to be good. And we had a bit of luck on this one."
During the planning phase, two key events drove things forward, he said, and those were the designation of the New River Gorge National Park and Preserve and Manchin's appointment as ARC co-chair.
"There are wonderful people, I mean wonderful people up there (UKV communities) and this is going to bring in millions and millions of dollars (in recreational tourism)," Salango said.
"The Upper Kanawha Valley has been treated terribly in recent years, but I believe this award will benefit residents of UKV and every town along the Kanawha River — from Marmet to Montgomery," Commission President W. Kent Carper said in a press release . "I sincerely thank Gayle Manchin, Federal Vice President, and the ARC for this award."
"This is the basis for reversing the upper Kanawha valley," Carper said during the ceremony.
"This is a wonderful announcement and a great day for Kanawha County and the residents of the upper Kanawha Valley," said Commissioner Lance Wheeler, noting that his first vote on the commission in January 2021 supported the continuation of the UCT plan. "This grant will enable the county to drive economic development and small business growth in UKV."
"The work isn't over yet," Wheeler said. "This project that we're doing right now is going to take more federal funding, it's going to take more community commitment, and we're not going to stop until we complete this project and we're bringing prosperity back to the upper Kanawha Valley."
In addition to securing critical funding, Wheeler said elected officials could not conduct such projects "without the support of the community, and we have seen that support in this community."
Greg Ingram of Montgomery was among the UKV mayors present for Thursday's announcement. "I think it strengthens all of our efforts," Ingram said of the funding. "It is a long-needed and long-overdue support for the Upper Kanawha Valley." ARC's involvement is critical, Ingram said. "I don't think they would invest that kind of money and not back it up with bricks and mortar, that part of it.
"They never refuse help and, wow, that's awesome," he added. "And the Kanawha County Commission has probably been on a mission to help us for a year and a half or two. When Tech left, the County Commission fought back, and at that time I believe Commissioner Carper decided that we're going to do something … to help the Upper Kanawha Valley.
"You have the UKAN program (a business support company in Upper Kanawha) that's helping businesses right now, but that's infrastructure."
"This will help each community bring their piece of the plan together," said Smithers Mayor Dr. Anne Cavalier. "Most municipalities have a part-time mayor.
"They don't have an economic development person, they don't have anyone to go to and say, 'Okay, we have the money, now get it done.'
"With this money that came through today, we will have three people, one person at the Land Trust, one person at the Charleston Area Alliance and another person here at Kanawha County. They will be the boots on the ground that will help us."
The financial possibilities are great once the plan takes shape, she said. Short-term construction loans will boost the economy, while long-term the potential for new businesses such as bed and breakfasts, restaurants, kayak rentals, new homes, and new hotels and motels could be significant.
Other UKV mayors present Thursday included David Fontalbert of Marmet, David Fletcher of Belle and Paul Bradshaw of Chesapeake.
Advisor Terrell Ellis praised various partners involved in the plan, such as the Charleston Area Alliance; the West Virginia Land Trust, which is developing the 5,000-acre Mammoth Preserve, a forest and river restoration project near Smithers that will be "an anchor for the project"; and the Hatfield-McCoy Trail System expanding into the region. The latter two are already mapping trails, Ellis said.
The overall plan requires "the collaboration of many partners and it will not happen overnight," she stressed.
The funding will provide resources to "take off" and provide technical support such as design work for trail systems, trail heads, water access points and other areas, Ellis said.
Del. Larry L. Rowe said accessibility to adventure sports in the city of Charleston is an important factor in the plan and that "Charleston will become the gateway to the National Park at New River Gorge."
Rowe said private investment in the plan will be critical, and as lawmaker he also discussed bills passed to create appropriate infrastructure grant scenarios. Funding for Abandoned Mine Lands can also factor into the equation, he said.
A unique part of the plan is "what's really happening is on the ridge tops," Rowe said. "We're going to have crisscrossing trails everywhere." There will also be shelters, water features, campgrounds and possibly private sector lodges.
• • •
With the awards presented Thursday, ARC has invested more than $316.6 million in 393 projects in 358 coal-affected Appalachian counties since POWER's inception in 2015. The 21 new projects announced this week will support entrepreneurship, workforce development, infrastructure, tourism and healthcare projects, support jobs, expand vocational and skills training, and attract new private investment in Appalachian communities impacted by the coal industry downturn.
"With this new round of investment through ARC's POWER grants, coal-affected communities will have opportunities that will help bring 21st-century jobs to the region," said Larry Hogan, Deputy Governor of the ARC from Maryland. "We are pleased that these projects are successfully helping to create a stronger economic future for Appalachia."
Email: [email protected] or follow @gb_scribe on Twitter