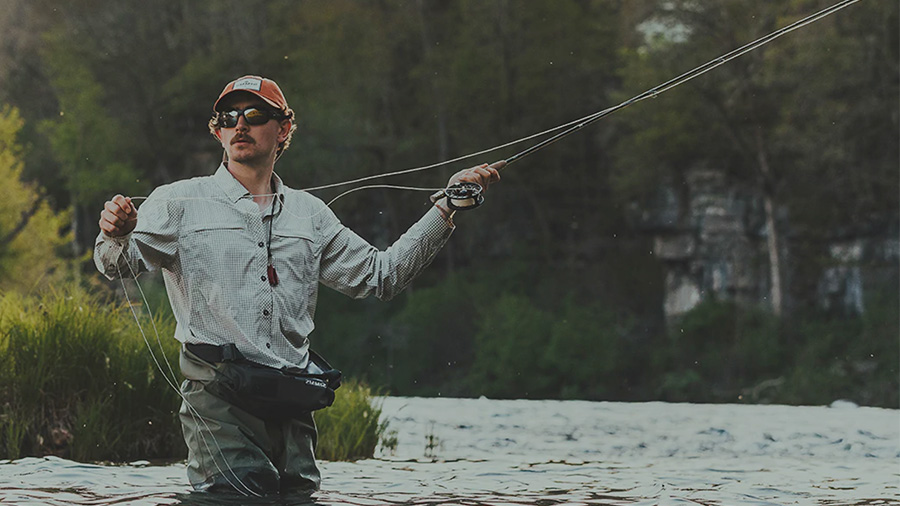 Vista Outdoor recently announced plans to acquire Simms Fishing Products for $192.5 million and Fox Racing for $540 million, expanding the portfolio to 41 brands.
SGB ​​board spoke to Vista CEO Chris Metz about the rationale behind the acquisitions and the company's better-than-expected first quarter results.
Let's start by discussing the acquisitions of Simms Fishing Products and Fox Racing. Are both companies up for sale? Both were up for sale but these are typically years in the making. We start strategically and open our doors to each of our brands. We're examining what additions we'd like to make, who's making this list, and what new platforms it would make sense to invest in, such as: B. a fishing platform. We do all this homework. Sims in particular is one of those brands that we've been keeping an eye on since I walked in the door five years ago. I have developed a close relationship with owner Casey Walsh. Given the iconic nature of the brand and Fox both have a process in place to ensure they give everyone a shot at a sale, but we've been on hold with the relationships we've built and the platform and strategic nature from the Vista Outdoor store versus a finance buyer. We've been great homes for these two brands.
What attracted Vista to Sims? You'll find that the reasons we make many acquisitions are similar. First, they operate in large markets, so they have a large TAM, or fully addressable market. Second, they grow quickly. Third, they tend to sell to an upper-class demographic, so they're recession-resistant, and they also sell to a socio-demographic group that allows us to invest in innovation and higher-margin products. They all have great management teams and a great cultural fit, which allows us to leverage the strengths we bring to DTC, supply chain excellence and other areas. With Simms, we can add value to the company immediately, but continue to let it do the things it does well.
Sims puts Vista in the Fishing category. Does the acquisition offer further synergies? Fox Racing has synergies and adjacencies with the Bell and Gyro business. But for Sims, most of the synergies will be between our two centers of excellence. From a supply chain perspective, we believe we can help the brand with efficiency, with different materials and whatever. We can also leverage our strength in online marketing and sales through DTC or partnerships with retailers.
Do you see significant untapped growth for Sims? Lots of growth, and that's an area where we think we can also help the company expand its current offering. Simms is a very well run business, but like many owner-run businesses, we bring scale, size and capital to help it grow.
What about the attractiveness and synergy potential with Fox Racing? The same criteria apply here as well. It has a strong management team and an iconic, almost cult-like brand. It's one of the few brands that people see tattooed on their bodies. It has this following and it has momentum. Fox sells into the growing motocross space. It's also a business that's more recession-proof. And it's a global brand, so there are synergies between Bell and Gyro in leveraging distribution channels, geographic venues and suppliers that we're excited to explore.
How do the two acquisitions affect Vista's acquisition drive? We press the pause button and continue studying while looking at the acquisitions. Given the macroeconomic conditions, it is prudent to integrate our two recent acquisitions. They came at the right time and we are happy with them.
Can you elaborate on Vista's previously announced plans to separate its Outdoor Products and Shooting Products businesses? The new acquisitions seem to support this effort. do they. When you think of outdoor products and shooting products, both are approaching nearly $2 billion in platform size on a pro forma basis with strong, sizable, standalone platforms. That was part of the premise that when we spin off the two companies, they both pivot from a position of strength. And we are on track, if not ahead, in the efforts and workflows required to merge the two organizations.
How did the first quarter end for Vista? We knocked the cover off the ball. We had a great first quarter but it's a tough environment. The economic challenges that every company in the field of consumer goods and especially outdoor products faces, we face the same challenges. And we might offset some of that with our faster-growing businesses. We believe we can offset some of this through our acquisitions in the future, but we are not immune to this. The same categories that compete for our colleagues are the same for us. We want to win relatively. We want to win regardless of the economy, but you know that winning in this economy will be different than winning during COVID.
Can you elaborate on the quarterly performance of the outdoor products segment? It showed a 2 percent decline where many brands did well. Our Outdoor Recreation platform, which includes Bushnell Golf, Foresight Sports, CamelBak and Camp Chef, performed well, growing over 20 percent. We assume that this will remain the case.
The action sports platform, which includes Bell, Gyro and soon Fox, was flatter. It was a tale of two cities – Action Sports has struggled to sell products at lower prices through bulk retailers, but has been great selling through specialty retailers of some of our more innovative, higher quality products. Overall, this segment was relatively flat. Where we took it on the chin was outdoor accessories. Outdoor Accessory sells to a socio-demographic group more affected by inflation and its hunting-oriented accessories. Consumers continue to participate in the hunt at high levels, which we encourage, but they have slowed some of their purchases.
Do you see that consumers who took up outdoor activities during the pandemic are sticking with them most of the time? In general, participation rates for most outdoor categories remain high. COVID has boosted some categories more than others, but if you look at pre-COVID versus post-COVID, we see a consistently high participation rate.
The Shooting Products category grew 40 percent in the first quarter. Has Vista caught up on its ammo stockpile? We've done that and we'll need to replenish some of our inventory, which is a focus for the team; However, we were able to fill in some of the backlog. Demand remains strong but, like the rest of outdoor products, is leveling off to a new normal. We are pleased that the new normal level is higher than before COVID.
Has Vista raised its outlook or adjusted it to reflect the new acquisitions? We have raised our guidance, reflecting the second half contribution from the two recent acquisitions. We took a more conservative view of the organic outdoor products and shooting sports products businesses. We have scaled back growth plans for both companies, but they are more than offset by the acquisitions.
Photo courtesy of Simms Fishing Products