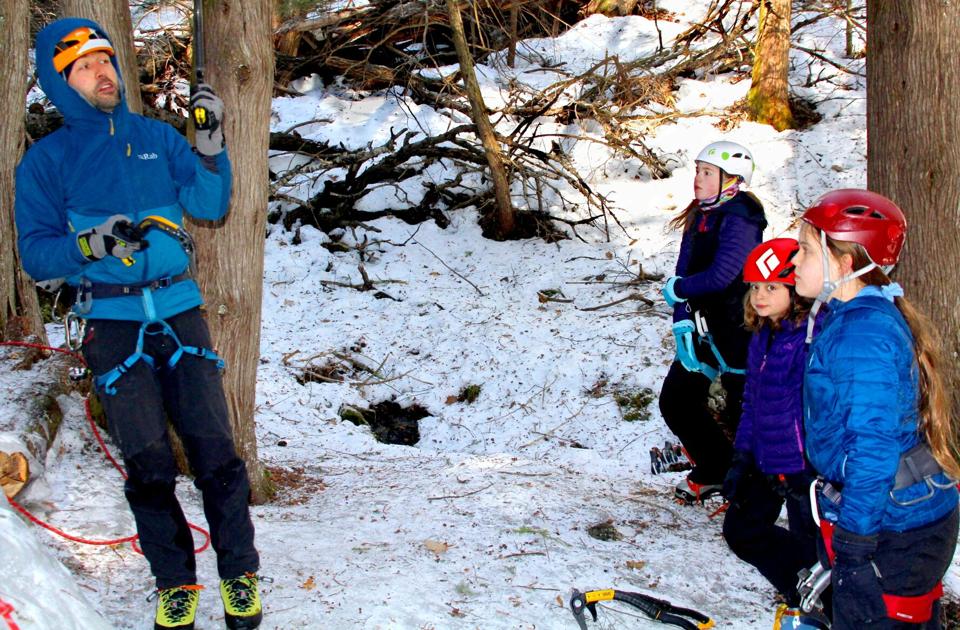 ELIZABETHTOWN – While they don't have a final name, the X-CHROMES seem like their pick. This group is made up of young women who are involved in a wide variety of outdoor adventures.
In general, when you think of fathers and their descendants who are physically active, it is dad throwing the soccer ball or pitching his son "slugger". This group has a different inclination, however, as it is made up of fathers who bond with their daughters.
Mountain biking, climbing, cross-country skiing, hiking on the high peaks and ice climbing are among the numerous achievements that these young people have achieved.
Perhaps their most unlikely pursuit has been ice climbing, which generally causes showers, with the cold not resisting just thinking about it.
Recently, a group of 8- to 13-year-olds laced mountain boots with spikes, tied climbing ropes to carabiners attached to their harnesses, put on helmets, and reached for ice picks to hammer their way up an ice-covered rock face. In most cases, their fathers performed the backup after making sure the equipment was working safely.
"YOU ARE ABLE"
"I think it's important that the girls learn that they are able to do things that most people will never try," said Ryan Hathaway, whose eight-year-old daughter Olivia was the youngest climber that day. "As they grow as people, they gain confidence."
Olivia commented, "I like being outside with the adventure and physical activity and challenge and hanging out with my friends. I'm scared if I could commute (swing back and forth while dangling from the rope). "
Ryan added: "The group is the X-CHROMES. It started as a group of fathers who just wanted to hang out with our kids. That's the most rewarding part for me; to combine the time outdoors with my children. We've climbed rocks and ice, ridden mountain bikes, jumped cliffs, hit the bush, and we're in the process of setting up an orienteering ski class. About 25 girls tried one or the other activity. Special thanks to Jeff Allot, Ed Palen, Mark Scott, and James Monty and the City of Lewis for their support. "
Easier than I thought
Sean Kullman climbed with his daughters, 13-year-old Grace and 11-year-old Lila.
"I was kind of scared at the beginning," said Lila. "I was afraid the ice would flake off or I would drop the ice ax. But then I realized it was easier than I thought. "
Grace said, "Personally, I wasn't scared. It's just about trying something new that is a part of life. It was really fun. "
Sean gave his views. "I think there are several reasons why it is important for girls to participate in such activities, such as discovering themselves in the context of the beautiful place where we live. You will discover and explore areas that many people will never see and then enjoy challenging and positive experiences in these wild places.
"They learn their physical place in the world and how to deal with it, while creating positive and lasting memories at the same time. I want the girls to understand that they are strong, capable and supported. "
Says Sean: "Every girl has been challenged physically and mentally at some point. It is a joy to see how they push themselves forward, overcome these challenges and that the group encourages and cheers them on. We build relationships between our children, our families and create a closer bond with the community and invest in the place where we live. Ultimately, and not as a selfless act, fathers can come together and participate in activities that we love and that involve our children. We have the opportunity to talk and joke and we also have fun. "
Climbing tips
Mark Scott, a certified rock instructor and apprentice alpine guide of the American Mountain Guides Association (AMGA), volunteered his ice climbing expertise. "I think it's good for children to be exposed to as many different activities as possible. Ice climbing is difficult, and it is harder to have fun and feel good because of the risks involved. That is why it is good to stack the odds in your favor and pick a nice day, be careful when choosing the website and work with a knowledgeable person such as a guide. "
Sean summed up the experience.
"Well, I just think that this group is of course based on and focused on a father-daughter relationship. The larger outdoor community has given us incredible support and opened many doors for us. Risk management and a solid understanding of climbing, biking, paddling, etc. are strong skills in this particular group and a shared responsibility among us fathers. "
Email to Alvin Reiner: [email protected]